Theater prepares for fall play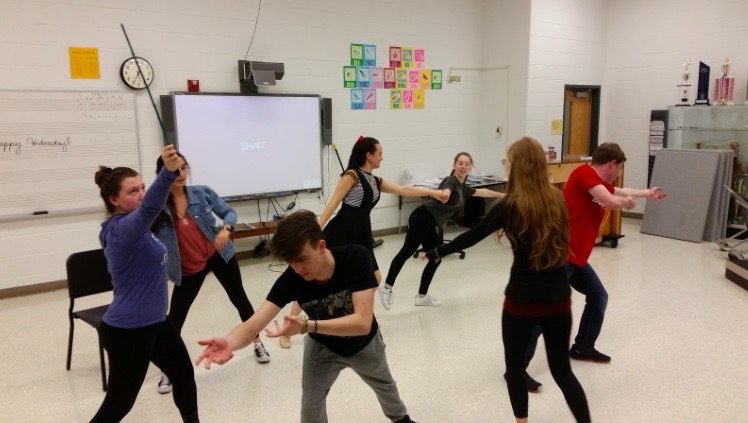 Lizzy Messerschmidt, Staff Writer
Published October 31, 2018
In early September, students started preparing for "Metamorphoses." They have rehearsed almost every day after school as well as having to take extra time to memorize their lines. It's a small cast of 15 students and every actor or actress plays five characters or more, which makes these students more involved than they would be if they played a single character.
The stage is constructed differently than normal. It's set up as a three-quarter thrust stage (meaning the audience is surrounding three sides of the stage). The main focus is a pool filled with about two feet of water for actors to go in and out of during the show. Depending on the turnout, most of the audience members will likely be seated onstage, opposed to in the auditorium seats.
"Metamorphoses" also has added choreography into it, something not typical to a play.
"We have incorporated a lot of choreography into the piece," director, Ms. Paula Nowak said. "Which I think is really going to take a lot of people by surprise. It's a really intriguing component that I think people won't be expecting."
"Metamorphoses" originally was a book written by Ovid, that's broken up by a series of stories. He took Greek Myths and used them as moral conundrums. It's a story about morals and the psychology told through these greek tragedies. The play, written by Mary Zimmerman, is a contemporary retelling of these Ancient Greek Myths.
"["Metamorphoses" is] so cool. This play is challenging to describe because it's about everything," Nowak said. "It's about love, it's about loss, it's about memory and about creation. There's so much to it that every single person who comes will take something different away. It's gonna be really cool, and it's really, really beautiful work."
Tickets are available at the Fine Arts Box Office or on the Fine Arts Website.  To see the time and effort these students have put in, head to the auditorium on November 8th-10th.