Sam's latest 'must read'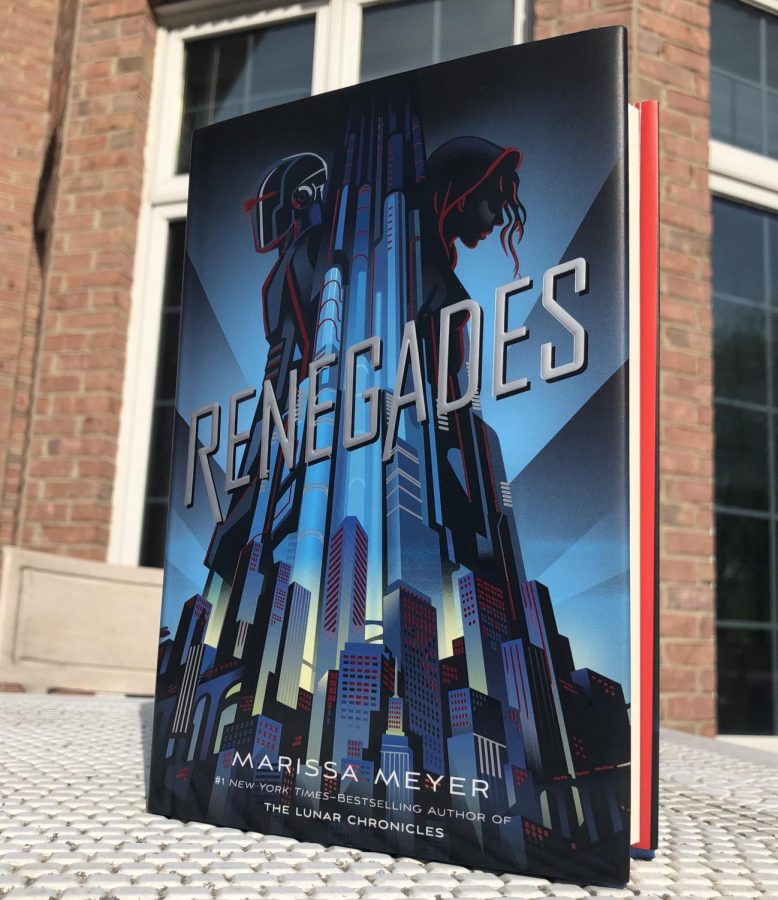 Superheroes and world domination.
Welcome back to Sam's nerd hour, where I write to my little cripple heart's content about the books I've read as of late. This month's review is going to cover the science fiction/dystopian novel (I know it seems like I only read sci-fi and fantasy and that's probably definitely true)
Renegades
by Marissa Meyer.
Renegades takes place in a world where Marvel-esque superheroes actually do exist. After an age of anarchy caused by the villains of the story, the Anarchists, a superhero group, the Renegades, have waged war on the Anarchists and taken control of the government, rebuilding the world.
The story follows Anarchist Nova Artino, alias Nightmare, whose power is the ability to put people to sleep with a touch, and who never sleeps herself. She has a vendetta against the Renegades, so she decides to infiltrate their organization under the name Nova McLain, alias Insomnia, in order to get revenge. We also follow Renegade Adrian Everhart, Alias Sketch, who is an artist who can bring his drawings to life and is the son of the leaders of the Renegade government, Hugh Everhart and Simon Westwood.
The characters were super fun to read about; the main characters are very complex, with moral struggles rather than just "knowing" they need to do the right thing. All the side characters were very unique and held the interest during the slowest parts of the novel, as they weren't just monotonous, unremarkable people there to further the main character's storyline, but rather, stole a slice of the spotlight for themselves. I loved how the novel was LGBTQ+ inclusive — there was not only a gay couple, they were also made out to be authentic parents juggling the struggle of raising a teenage boy and doing their jobs, and were placed in the highest position of power in the government with no remarks on their orientation, which was really appealing to see.
In terms of format and pacing, this one is laid out like a typical novel, and is, again, a bit slow, but still made me love it all the more when the plot finally came to a head. The epic finale was very satisfying, to say the least. However, I had some issues with the flow in the first 50 percent or so of the novel — it seemed like Meyer was having trouble getting into the groove of writing something other than her critically acclaimed The Lunar Chronicles series (which I also thoroughly enjoyed). Overall, I'd rate this novel a 90 percent — a minus 10 for some of the pacing and flow issues, but otherwise a solid and entertaining start to a new series.
Reaction time! Preview people, it's time for you to leave, unless you want the book spoiled for you.
Gah, the romantic tension between Nova and Adrian is ridiculous! I always describe this to my best friend (who has read the series) as "the romantic tension of our generation" and she is completely on board. The trope where couples always deny interest suckers me in every single time.
As we neared the end of the book, Nova's continued alliance with the Anarchists and willingness to sacrifice herself for their insane cause began to bug me — she's obviously a good person, she's smart, loyal, and determined — in Marvel's words, she'll do "whatever it takes." It began to frustrate me because she aligned with the morals and objectives of the Renegades so much more than those of the Anarchists, yet she is loyal to a fault, blind to the fact that the Anarchists are the reason her family actually died, not the Renegades. And since she's so smart, and clearly a moral and good person, why won't she just attempt to reform the system from the inside? I was and continue to be frustrated with that major plot point — when do we get her change of heart?!
I love how Nova has turned herself into a teen genius simply because she has more time to work than everyone else, as she doesn't sleep. It makes me wonder what I could do if I didn't sleep, and envy Nova's engineering skills. I'm also majorly jealous of Adrian's art skills — even my stick figures are lopsided!
Renegades was a super fun read, and anyone who's into Marvel, comics, or superheroes of any kind would especially enjoy this witty, morally complex tale. Enjoy!