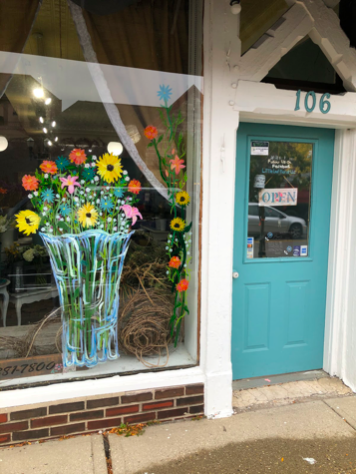 Downtown Barrington managers, workers and village board members have worked together to create the safest way to reopen their establishments since temporarily shutting down in late March due to Covid.
Melanie Marcordes, the assistant to the Barrington Village Manager, discussed the restrictions and plans that Barrington Village Board members had to follow, and what they needed to think about before reopening businesses.
"We really deferred a lot of our opening restrictions to the CDC, the governor's office and the Restore Illinois Plan," Marcordes said.
Even with these restrictions and plans in place, the Village Board still had to work through and help with their own set of issues.
"Our big concern was when they opened restaurants to start outdoor dining, before they opened them on the inside," Marcordes said. "That was a big discussion on how we can help these businesses create more outdoor space that we wouldn't normally approve of, if we were not in a pandemic. There's things the village can do to help create more space and there was a big discussion leading up to that."
Reopening Barrington businesses itself was a challenge, even while following the Restore Illinois Plan.
"We reached out to local restaurants and asked specifically, 'what's your plan?' and to let us review it so that we know how you're going to operate," Marcordes said. "We were proactive in reaching out to them, but they had to come up with their own plan."
Marcordes stated the biggest challenge for the Barrington Village Board was how to deal with and help all of the businesses, who all needed different resources and had separate concerns before they could reopen and thrive again.
"Our biggest challenge is that all of our businesses are very unique in how they operate. Trying to find a single solution to all of those individual businesses needs was, and still is, a challenge," Marcordes said.
One of those local businesses, Shakou, explained their individual take on still being able to make the best out of quarantine and being able to serve their food.
"We took advantage of the shutdown time frame to do a massive cleaning of all locations and set up a streamlined Curbside Carryout operation," Shakou Barrington's Operations Manager, Tasos Maroulis said. "The main discussions we had were regarding our updated hours and menu structure, to maximize the times that our customers frequented and having their preferred menu items available to them."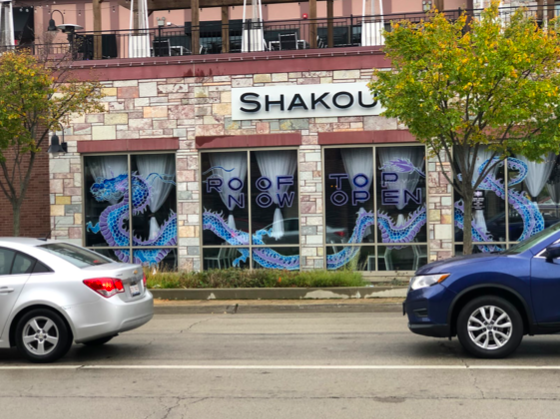 These business owners stress how important their customers and customer service are to them. They had to put restrictions in place, but still wanted to make the restaurant and business environment as normal as it could be. With Downtown Barrington's businesses mainly open to the public now, new precautions had to be put in place.
"We followed the Restore Illinois plan almost exactly," Marcordes said. "So a lot of it was making sure tables were socially distanced, making sure you didn't have anyone standing around in waiting areas for a long time, and making sure they had hand sanitizers in their places of business. Working with the health departments to see if things needed special restrictions or anything else."
When asking Melanie and Maroulis how they continue to not only enforce protocol and stay safe, but make sure their customers do the same, their answers were very similar.
"Best practices include staying home if you are sick, and regularly washing and or sanitizing your hands," Maroulis said. "Masks are to keep our staff and guests safe. Please wear a mask when entering our establishment, and feel free to remove once you are at your table and enjoying delicious Shakou Asian cuisine."
These protocols are used everywhere and often are repeated and seen throughout Barrington. This is to ensure the safety of citizens, apparent by both Marcordes and Maroulis's responses.
"Masks are number one, along with social distancing, and keeping your core group small. Practicing social distancing, wearing a mask and washing your hands are all things I practice regularly and hope other people do as well," Marcordes said.
Now with Barrington open, what is the next step? Marcordes explained how they're just trying to follow the state protocols and continue to keep Barrington safe, while still making it fun for everyone.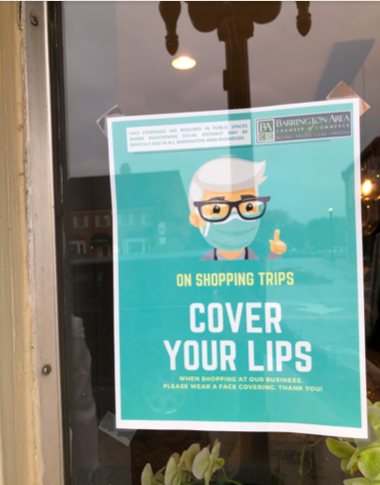 "We're still trying to create a downtown where people can go to walk around and not be in a big crowd; an atmosphere where people still want to come and shop and eat while not overcrowding!" Marcordes said.
Downtown Barrington has been busy with the reworking of their businesses, and the Village Board with helping, while continuing to enforce the protocols put into place for our safety. Downtown Barrington establishments are now fully open to the public, with the necessary precautions.
"We are just doing our best to keep up with any new state protocols and doing whatever we can to support each other and make sure everyone who enters our doors feels safe, while supporting other local businesses as much as we can," Maroulis said.