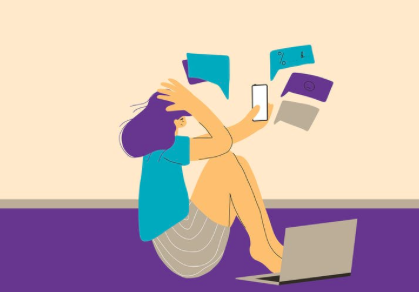 In many aspects, online school can leave students exhausted and stressed, both mentally and physically.
E-Learning mainly utilizes Zoom calls to substitute, and even replicate, a typical in-person class. As the standard number of enrollments for students is seven to eight classes, students are expected to have anywhere between two to eight Zoom lessons per day, depending on asynchronous or synchronous teaching.
In a study led by two researchers from the San Diego State University and the University of Georgia, the two experimenters conducted a survey of children and adolescents of varied ages, gender, race, and households, asking them to record their weekly screen time usage. It was concluded that after one hour per day, any increase in screen time was generally linked to lower psychological well-being. Users who spend over seven hours per day had twice the risk of lower well-being compared to those with one to four hours of screen time. As each Zoom lesson is estimated to be 40-45 minutes in length, classes excluding advisory would roughly translate to five hours of online lessons only, not including the possibility of additional homework.
"After eight hours straight of being on the screen, it's exhausting, and difficult to be productive," Freshman Sofiabella Amirante said.
In a poll of 20 students asking to specify whether they were more mentally or physically drained, 18 students claimed that they were more mentally exhausted, or both mentally and physically exhausted. Teenagers, (aged 14-17), spend roughly four hours per day on digital devices previous to the implementation of online schooling. Now, teenagers are expected to endure a minimum of three hours of Zoom classes only. In a recent study led by Joseph Ciarrochi of Australian Catholic University, results indicated that prolonged internet usage will result in a decline in mental health over the course of four years. While declining mental health does not apply to all students, as internet exposure increases, digital learning could possibly be a factor of exhaustion.
In a poll of 54 students at BHS asking to rate their level of tiredness after a standard day of online classes, the average answer was between above-average to peak mental exhaustion. While answers will vary depending on class enrollment and a student's personal ability, a variety of students have answered the poll, each with unique capabilities and personal limitations. Statistically, most students are facing fatigue after Zoom.
"The more time people spend sitting down in front of a screen is probably less time they're spending connecting with other people, out in nature, and there could possibly be an effect on their nutrition." Nurse McCroary of BHS said.
Besides the possible decline of mental health, online schooling has increased sedentary lifestyles. While at school, students have a passing period between classes. Whether this is just a walk next door or a couple of flights of stairs, students are actively moving and interacting with peers.
"I think BHS has done a nice job of trying to balance the necessity of online learning with various social opportunities to keep kids connected to one another during this difficult time," Psychologist Sarah Kirkorsky of BHS said.
While many students have claimed to have a harder time concentrating during online schooling, several club and community opportunities have helped reconnect students and rekindle some of their passion. As our psychologist urges, joining clubs and connecting with peers and teachers is strongly encouraged.
"We should all set boundaries and limits and realize that teachers are also stuck behind their computers too- answering more emails, questions." Nurse McCroary of BHS said.