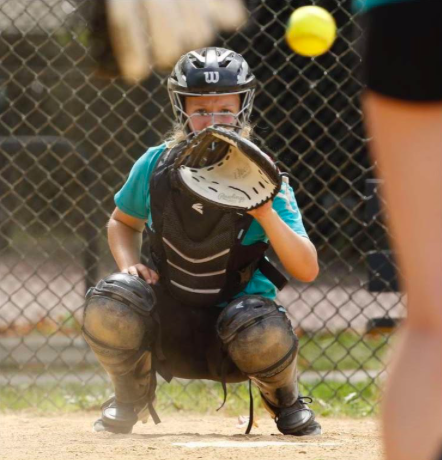 It could almost be considered an American tradition for children to take part in athletics from a young age. Those that take part in athletics for most of their academic careers are often practically born on the field or the court, and spend considerable amounts of their year either in-season competing, or training for their season.
This overly active and productive lifestyle on top of already-challenging academic curriculum brings its own set of challenges – challenges that are often overlooked and kept in the dark since athletes are held on such a high pedestal in which they are expected to always be at their best.
Sophomores Tessa Peterson and Ellie Sanchez – lifetime holders of the athlete title – open up about the bumps in their sports journey, both physical and mental. The girls found themselves reflecting on what felt had been their hardest year athletically, and reminiscing in their darkest and most challenging moments.
Peterson, a dedicated softball player for Barrington High School, found herself playing in a rather new position, which brought along its hurdles.
"Last year was pretty hard for me because I was catching a lot, which was pretty new for me," Peterson said. "I started in eighth grade as a catcher, so it had only been my first year catching and I was working to get better, but then I had a setback where my arm kept getting injured. It wasn't super serious, but we had to go get MRIs and get it checked up, and I ended up getting fluids inside my bicep tendon, so I couldn't use my arm. I had to be out for a couple of weeks, which was really disappointing, just because it was winter going into my first season of high school, and I wanted to stay in shape and just be the best I could to be prepared for tryouts, but it just didn't happen."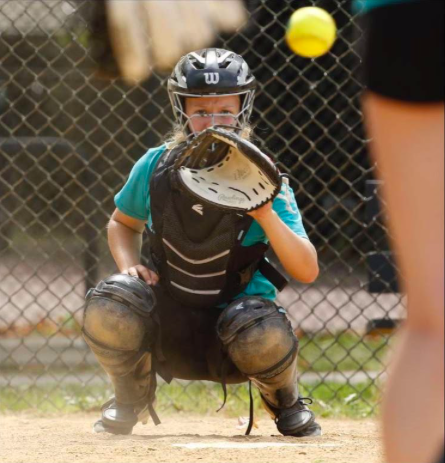 According to Weinstein Legal, "90 percent of student athletes report some sort of sports-related injury," while a baffling "54 percent of student athletes report they have played while injured."
These physical effects that accompany sports are often overlooked, despite them being some of the biggest challenges that athletes face. Despite the devastating amount of physical injuries that are concomitant with sports, there are mental and emotional setbacks that tag along the merit and competition-based sports system.
Sanchez, a varsity soccer player, has been lucky enough to have never sustained any physical injuries as a result of her sport. This, however, didn't allow for her to escape all the mental and emotional hardships – despite her overall positive outlook and perspective when facing inconveniences and bumps in the road.
"Freshman year was definitely challenging," Sanchez said. "I was just so excited for high school and had always looked up to the high school team, and I was fortunate enough to make varsity my freshman year and that was supposed to be a really good team that was going to do really good things, and unfortunately the season was cancelled because of COVID. So that was really hard on me mentally since making varsity freshman year had been the goal I had been shooting for since, like, sixth grade, and being able to play with those girls that I've always looked up to… that was really hard on me, just to understand that that's not going to happen."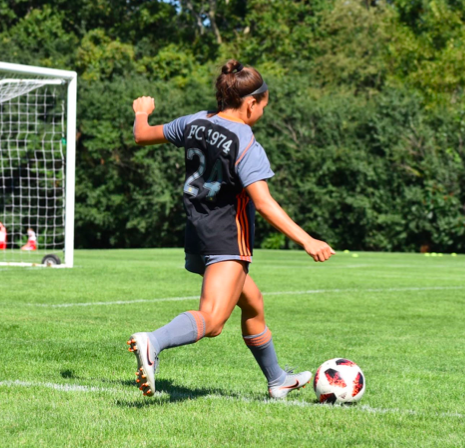 Both girls were hit hard as their athletic lifestyles were put on halt in their own ways – especially when staying active has become such a vital part of their lives.
"Honestly, I think it's the most stress relieving thing that I do," Peterson said. "Whether it's two or three times a week, even if I don't have team practice, I can just go on my own and so get some reps in to relax my mind. I get stressed out about school and there's a thousand things on my plate, but then I go to softball and I know that this is my time to do this and take my mind off everything and then focus on school when I get back. Not only does it make your body feel good since you're doing something productive and active, but it also tricks your mind into thinking 'I did something productive today' and if I did bad on this test today or you have a bunch of homework that I didn't finish, I still got my body moving and that just ultimately been something I accomplished today."
"I think being active overall just helps everything about my day and just my personality," Sanchez said, proving similar results in the importance of activity for both girls. "It's been scientifically proven that you actually get a mood boost when you workout, so I think I'm always in a pretty good mood and I think it helps me just relieve any stress I'm feeling, helps me have an escape or an our for all those negative emotions that are in your head during the day."
Perhaps it's the stress relieving feeling or the mood boost that accompanies being active that keeps them craving for more, or simply the support that is granted in having such a community and people to count on, but most athletes ultimately overcome their bumps in the road and their hard times and continue on playing. Experienced athletes know that a low is temporary – and eventually will begin to climb again.
"I think the biggest thing is the longer you think about something, like if someone says don't think about the fact that you didn't make the team, that's what you're going to think about, obviously, and it's going to stick with you longer than if you say 'oh, I made this team, not the one I wanted to make, but I made this team,'" Peterson said. " Look on the bright side of things, I know it sounds kind of cheesy, but if you flip the situation, you're going to get a better outcome and I feel like you'll just be happier about something."
"This is what me and my friend have been saying all along, it's our little slogan: you get to be here, you don't have to be here. A lot of people would love to be in the position you are and while you may hate this workout, you get to be getting better today, and it's just a different change in mentality and it allows you to really soak in, like, 'I get to be here, I get to get better' while other people don't get to be here or don't have the means to be here. I think that's helped me overall understand how blessed I am to be able to become the athlete that I am," Sanchez said.
Sometimes a shift in outlook is all that's necessary to move forward – in athletics and in everyday life. Bumps have an up and a down – they're a package deal. When someone's at their lowest point, it only means they're about to be propelled onto their highest point again, even though it's hard to acknowledge those times as highs or lows until you're reminiscing on them.
"I would just sit down with myself and tell myself that it'll be OK," Peterson said, referring to what she would have wanted to tell herself when at her personal low. "I think the easiest thing – or the nicest thing I would say to be myself would be that it's going to be OK and one game is just a game and, in the long run, who you are when you're playing is the same person you are when you're doing everything else and there's a lot of qualities to you and winning isn't everything."
"I would just say 'keep going,'" Sanchez said. "It's going to get better, there's nothing you can do about it, some people are going to be at their low when you're at your high and vice versa. If you just keep your eyes on the goal and keep pushing and keep moving forward – I think that's the best thing you can do as an athlete and a person. Just take it head-on, embrace it, and try to get better everyday even if it's the little things. Just keep moving forward – that's the best thing you can do."