Turkey trot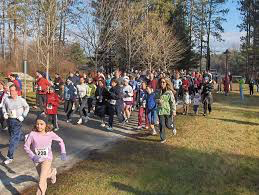 Hang on for a minute...we're trying to find some more stories you might like.
Every Thanksgiving morning, Laura Horak and her neighbor met up to go for a run in the Cuba Marsh.
In 2012, they decided to share this tradition with the rest of their community and are now the founders of the Turkey Trot in the Cuba Marsh.
"It's a tradition that we loved so much that we wanted to share it with others and get more people out in the Marsh," Horak said. "Cuba Marsh is so beautiful, peaceful, and a hidden gem right here in our community. It always amazes me how many people have never walked, biked in or explored the Marsh."
Initially, their goal was to create a gathering of people from the community to go for a morning run or walk and get a little exercise before the Thanksgiving meal.
"We didn't want to have an official sign up or registration fee so people would feel less pressure to 'compete' in an organized event and so people wouldn't feel obligated and could just play it by ear on Thanksgiving morning," Horak said. "We wanted the event to feel more like a gathering of community members who wanted to get outside, enjoy the company of others and exercise a bit."
After having success in the first year, they decided that they would pick a charity in the spirit of the holiday.
"In lieu of a registration fee, attendees can make a donation to a designated charity.  In 2012, 2013 and 2014 the selected charity was Brother's Keeper," Horak said. "Then starting in 2015, we changed the charity to Let It Be Us. Our good family friend, Susan McConnell, is the founder of the organization. Also, at the time, my daughter Maggie was the President of the Let It Be Us Youth Board."
This gives another reason for Horak to be connected with this tradition. She gets to work with her daughter and her family to perform a service to the community.
"It was such a special experience to work side by side with Maggie. She and the other students on the board learned about organizing an event, publicity, asking for donations, and many other things. Each year we collect donations from Starbucks, Heinens, Einsteins, and more," Horak said.
One of the many elements that make this tradition special is the charity involved. Let It Be Us is an organization that supports children living in foster care and helps them find families.
"We thought that Let It Be Us was a perfect recipient as the organization supports children living in foster care in Illinois and advocates for their being placed with 'forever families'," Horak said. "Thanksgiving is so much about family and community so it made sense that we would support these children hoping to find their 'forever family.'"
The Cuba Marsh was a perfect place to hold this tradition, but as Horak said, it is often overlooked by the citizens of Barrington.
"I wish I could go more often but my work causes me to come less often than I would like," an anonymous walker said, "I like the marsh because it is very peaceful and always quiet."
Overall, this run is a great service to the community and will hopefully be around for years to come.
"There are so many things I love about the Turkey Trot: partnering with my daughter on a service project, starting my day off with fresh air and exercise and nature, and seeing all the people join together for a good cause on Thanksgiving morning," Horak said.