From Little League to D1 softball: Senior Ainsley Muno commits to Northwestern University for softball
After picking up a bat for the first time at 6-years-old, senior Ainsley Muno's life quickly revolved around the thrill of catching a softball and running the field. Muno plays first base on both her travel team and during the school season.
Starting with baseball first, Muno transitioned into softball at 11-years-old as she entered middle school.
"Baseball was something that my parents put my twin brother and me in to keep me from getting bored. There was a bit of a learning curve,
but it was one of the sports I tried that I ended up falling in love with," Muno said.
Despite her love for baseball, a predominantly male-dominated sport, Muno didn't see a future with the sport long-term."I did get quite tired of the boys, to be honest. But I realized also, I couldn't do it forever. I sat down one day and had a talk with my parents and we decided that there wasn't really much future for me playing baseball," Muno said. "From there we talked about the idea of transitioning to softball. It's a different pitching style with the game, but it's essentially the same. I was also young so it was okay."
By the time Muno started freshman year of high school, the love of softball drove her passion to get better, especially on the school team amidst college recruiting.
"For me, the baseline was my growth spurt freshman year because I had to relearn everything. I felt like I was behind other players, because I grew six inches in a year, which is a lot. But once I felt 'caught up', the love for the game really clicked. I was playing for the love of the game. I just knew I wanted to keep getting better," Muno said.
"
I was playing for the love of the game. I just knew I wanted to keep getting better,
— Ainsley Muno
Muno's dream is to play on National television, a dream that now will come to fruition. On October 3, Muno officially committed to Northwestern University to continue her softball career.
"Northwestern offers both great academic and athletic opportunities, which really attracted me. I also love all the coaches; they have a great support system there," Muno said.
Along with the great support, Muno's experience with Northwestern recruitment felt like a welcoming one.
"They first came out to watch me at my games, and then we started messaging and calling to get to know each other and build a relationship. It felt really meaningful right off the bat, pun intended. Eventually Coach Kate Drohan invited me on a visit to talk more about the program. It kind of sold me on them and then that's when they officially offered me. I think it took about two months of weighing other offers before I decided on Northwestern," Muno said.
Muno, who plans to major in biology at Northwestern, currently has no plans to continue softball professionally beyond high school, but her love for the game has no end in sight.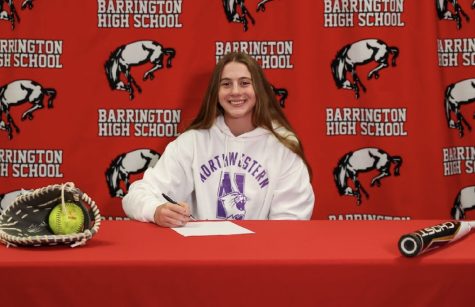 "I would love to stay with the game, maybe because I wouldn't know what to do if I left but also I love the game. With a biology degree I could go into the physical therapy side and be a trainer for a softball team. I'd [like] to travel and stay in the game. Or maybe I'd coach a softball team as a future parent," Muno said.
Regardless of where softball takes Muno in the future, the impact the game has had on her continues both on and off the field.
"My commitment to the game and getting better at softball always has come first for me. My dreams were my first goal. The game has taught me perseverance, personal growth and the importance of never giving up because it's a game of failure at the end of the day," Muno said. "It's really hard, but it's taught me to never give up."
Your donation will support the student journalists at Barrington High School! Your contribution will allow us to produce our publication and cover our annual website hosting costs.