A week to explore the world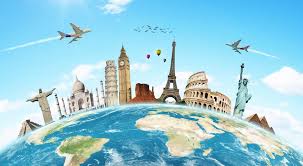 Hang on for a minute...we're trying to find some more stories you might like.
Living in Barrington, Illinois doesn't always allow students to experience what entirely makes up the world, besides the United States. So, in an effort to change this notion, the BHS faculty hoped to expand students appreciation and understanding of other heritages and cultures from around the world with the implementation of world language week in 2016.
World language week is a week for students to learn and dive into the traditions from around the world. This year, multicultural week begins on March 18th and wraps up on March 21st. With this, last Friday marked the kickoff to multicultural week with the much-anticipated multicultural show, where students are able to demonstrate various cultures through dance, song and other arts.
The way students are exposed to other countries' cultures during this week, particularly in language classrooms, has ultimately sparked inspiration and interest to students regarding what is outside of Barrington, Illinois. Former Barrington student Kelsey Sullivan, class of 2021 at Miami University, chose to take her knowledge of the Spanish culture to the next level by studying abroad in Barcelona, Spain this semester.
"Senorita Constenla was my favorite teacher [at Barrington] and she inspired me to keep learning Spanish and the culture, so I am getting a minor in it at Miami," Sullivan said. "Then, that pushed me to study abroad in Barcelona. I knew I wanted to study in Spain since high school though."
The inspiration Sullivan found in high school has allowed her to experience a variety of cultures all over Europe. Barrington, she felt, prepared her extremely well for what kinds of customs and language aspects the Spanish community has. Sullivan continuously emphasized that her real-world experience was so much more than she could have hoped for.
"I love observing the different mannerisms they have, what food they cook, family traditions, what they do in their free time, how they go out at night, the architecture of the city, their political affiliations, and leaders, how they view the U.S. and music is my favorite," Sullivan said.
Sullivan simply couldn't stop raving about what she gets to see every day and that fact that there's something new to learn everywhere she goes. To Sullivan, there's a huge learning curve when it comes to the Spanish culture or any culture, and it gets easier every day when you try to speak it. When initially moving to Spain, she had no idea that there was more to the language than just speaking Spanish.
"Since I'm in Barcelona, I'm in the Catalonia region so everyone speaks Spanish, English, and Catalán," Sullivan said. "Catalán is a completely different language that I can't understand. My host dad only speaks Catalán at restaurants and with his friends. It's a different culture than Spanish and they have their own flag, which is super cool."
Going on, Sullivan notes how there are certain aspects to the Spanish culture that are just like the United States, with certain phrases, slang or tenses that she has ultimately had to pick up on the go.
"There is a lot of slang and small talk that you need to know simply to order a coffee," Sullivan said. "Being able to speak and annunciate quickly is important as well because, sometimes, they won't understand your accent at all. The language always encompasses the culture so in Spain they are a lot more touchy and they compliment each other a lot more."
In the end, it is apparent that, allow there are similarities, no culture is exactly like the other and each has their own touch to it. Sullivan felt that the way multicultural week exposed her to the various fun, social aspects of a country inspired her to see them for herself in person. With this, she begins to note the differences between America and the Spanish culture.
"In Spain, people are very family oriented, they have a work-to-live mentality, they're very close knit so they don't care about personal space, food is a way to hang out for hours on end but they have an emphasis on home cooked meals and they are very laid back," Sullivan said. "But in America, people are very work oriented with a live-to-work mentality, people like a lot of personal space, they're loud and somewhat embarrassing in public, their food is to eat and people are strict or uptight with work."
Overall, Sullivan recommends to truly embrace multicultural week as she has been to able to experience life-changing moments through living and continuing her knowledge of Spanish.