Ladies' track team takes on state championships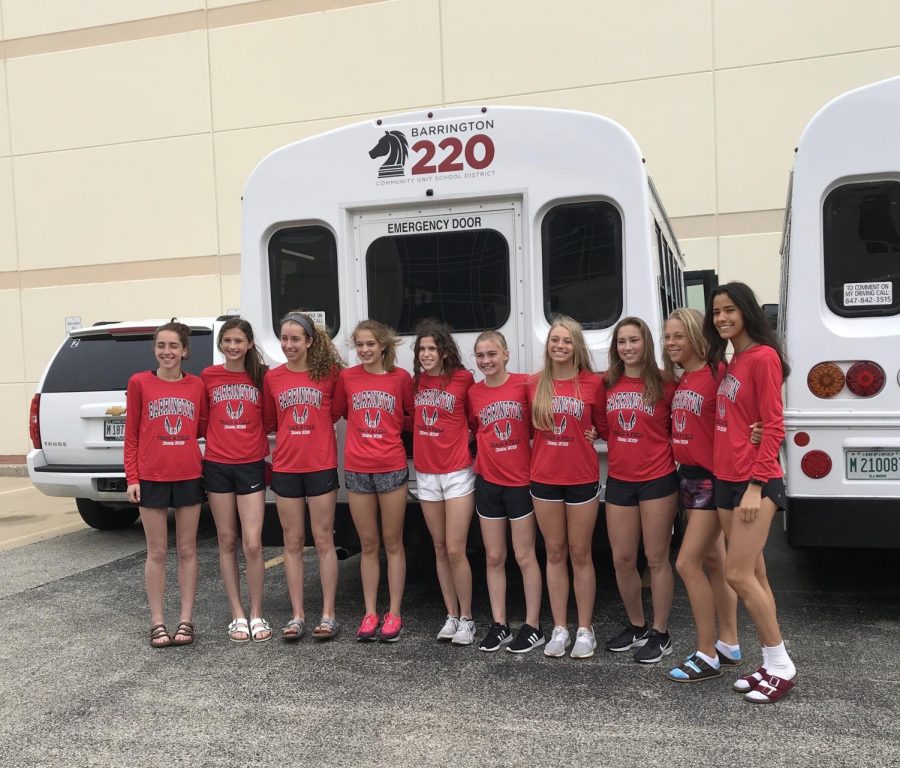 Members of the Barrington Fillies track team have been selected to compete at the Illinois High School Association (IHSA) State tournament The meet will be held at O'Brien Field in Charleston, which is home to the football and track teams at Eastern Illinois University.
Among those competing are freshman Bre Dunn and Kathleen Baker; sophomores Molly Fitzpatrick, Reagan Pokorny, and Olivia Helmer; junior Alyssa Norris; and senior Gabby Cossio.
Helmer, Cossio, Baker, and Pokorny qualified for the four-by-200 relay with a time of 1:45.20. Helmer, Cossio, Baker, and Dunn qualified for the four-by-400 relay with a time of 4:01.27. Fitzpatrick, Cossio, Baker, and Norris qualified for the four-by-800 relay with a time 9:23.59. Fitzpatrick and Norris qualified individually for the 1600-meter race with times of 5:00.14 and 5:03.23. Cossio qualified for the 300-meter hurdles with a time of 45.60. Sophomores Anne Bergquist, Aly Butirro and Morgan Magro will also join the team at state as alternates for the relays.
The team competed at William Fremd high school, where they won the Mid-Suburban League Championship. Then went on to compete at sectionals in Deerfield, finishing off with 2nd place. After achieving respectively impressive accomplishments during the 2018-2019 season. This includes placing third at the Proviso East Invitational, seizing a second place at the Varsity Conference Indoor Meet. They also received third at the Barrington Girls' Track Invitational and their many wins at the Huntley Invitational Championship and the Palatine Relays.  
The underclassmen, such as Pokorny, in particular, have excelled in short-distance races, helping to propel their team to success. Meanwhile, upperclassmen Cossio and Norris have represented their team in the varsity distance races. Norris expressed her confidence in herself and in the team based on how they've prepared since January.
"We constantly push ourselves in practice so we're ready when it comes to the meets. We've all taken really good care of our bodies [and] each other. We've been preparing since January and now it's time to show off what we've brought," junior Alyssa Norris said. "We have a strong team with many underclassmen, which means even stronger returners for next year. Hopefully, we come back with some hardware."
The events will be held from Thursday, March 16th to Saturday, March 18th.