Team bonding rituals ft. sauce baths and vaca's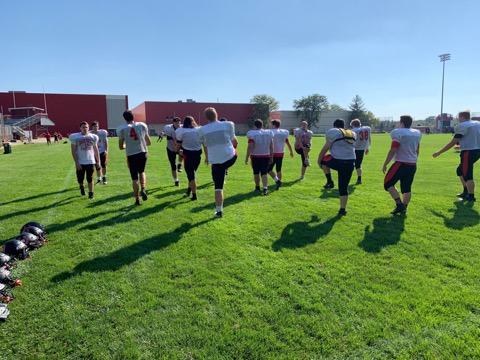 Team bonding is an important aspect of every sport. Building strong relationships with your teammates can be critical to success. These teams are a place where you may meet some of your best friends, and team bonding is the basis for these relationships. After all, you do spend multiple hours a day, every day with these people. 
Boys Swimming
Boys swimming takes team bonding to a whole nother level. Junior Daniel Langlois has been on the varsity boys swim team since freshman year. "As a team bonding activity we take group spaghetti sauce baths to slide through the water better," Daniel said. Some team bonding activities are more unique and differ greatly from other teams just like this one. 
Football
Larger teams, such as football, require a different type of team bonding. "We go to Northern Illinois University in the summer and we have position dinners every Thursday night before games" Mikey Tarpey, '21, said. The varsity football team starts their team bonding in the summer with a team trip at Northern Illinois University. But during the season to create strong relationships with the people they will be working most closely with, they do group dinners the night before the Friday night game with people playing similar positions. 
Girls Soccer
The varsity girls soccer team has a strong bond, which is apparent through their success these past seasons with a 1st place finish at state in 2017 and 2018, and a 2nd place finish at state in 2019. "We have a lot of team sleepovers over the course of the season and before every game we have pasta parties at someone's house." Lara Lubinsky, '21, said. Team sleepovers and pasta parties are consistent ways of team bonding throughout the season truly allows everybody to build strong relationships, and creates an ideal atmosphere for them.
Team bonding rituals will always live on. Congratulations to these few teams for keeping up the tradition!