Florida brings culture to BHS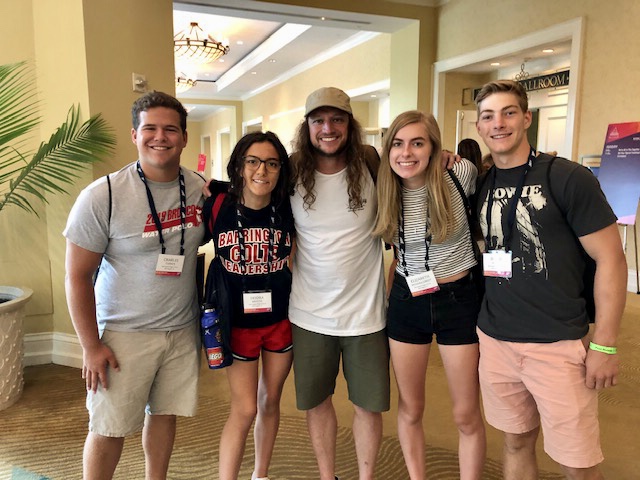 Back in July, seniors DeeDee Broustis, Hayden Kraus, Charlie Farmer, and Lizzy Messerschmidt went with Dr. Heath McFaul to the Jostens National Renaissance Conference (JRNC) held in Orlando, Florida in order to learn different ways to improve the culture of Barrington High School. 
"[I had] the opportunity to leave Barrington and open up to new ideas and new people, as well as having the ability to have fun," Kraus said. "I also want to make an impact on the school and leave a legacy, and I saw the JRNC as a great way to help."
The conference was four days long, allowing enough time to expose the students, as well as Dr. McFaul, to ideas that they may not have thought about before. This conference was all about finding ways to create positive change in the school environment, and, going along with the theme of the conference, to actually "make that change".
"My favorite thing I learned from the conference was definitely encompassed on the theme of including everyone," Broustis said. "With such a big school, we often forget that every individual person has a story, and it deserves to be heard. There's always a huge stigma that goes around that 'you are not as important as I am', but this conference made me realize the good in everyone and how everyone deserves to be recognized no matter who they are."
This conference focused on many different aspects of creating change in the school including different activities to try, games to play and learning more on how to make the school a more inclusive environment. 
"At the conference, we would have big general sessions where schools and their students and stuffily from all across the country would gather in to listen to countless people who have changed the world in small ways," Broustis said. "These general sessions were a time to interact with other students and listen in on ways your school can create a healthier environment. After most general sessions, there would be breakout sessions that you would choose to go to. There were countless options, so our group tended to go to different ones about different topics in order to get the full experience of the conference." 
Making a change in a school with over 3,000 students is not an easy task. It takes time, effort and acceptance within both the students and staff.
"I see change [more likely to] happen through the students, not through having the faculty tell students what to do," Kraus said. "If we can get students behind an idea, there will be much less resistance, as students are more willing to follow peers than adults."