Turkey bowl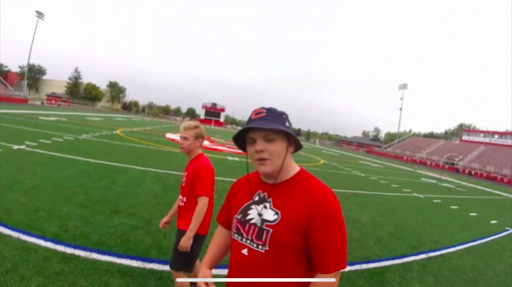 When it comes to Thanksgiving traditions, there is no shortage of them. Whether it's watching a movie or eating a hefty dinner, traditions are meant to be enjoyed with loved ones.
Thanksgiving is a holiday as old as the country itself, but while this is true, we seem to add traditions to the holiday quite often. Some traditions added in the recent memory have been taking a long road trip, Friendsgiving, and card games like cards against humanity.
One Thanksgiving tradition that has been around since the early 1900s is The Turkey Bowl. The Turkey Bowl is known most as a football game played on Thanksgiving. Whether you play with custom jerseys or just throw the ball around the yard, The Turkey Bowl is meant to be a light-hearted game to partake in with friends or family.
"What makes the Turkey Bowl tradition so special is that it's a once a year, so there's more of a competitive environment, rather than just gathering everyone and playing a casual game of football on a regular day. It's almost as if no other game has mattered; this is for all the marbles," James Edward, '20, said.
Edwards has participated in as many as six Turkey Bowls in his life, and this year will be no exception. A group of seniors, started by Edwards, played their first official game last Thanksgiving and plan to compete again this year.
"It's just really fun to get to play football with some of my best friends on a holiday known for football," Charlie Farmer, '20, said. "It's all for fun, but we are pretty competitive. The winner has bragging rights for a whole year, which is very cool."
Why is it that out of all the sports, football is the one to be carried out as a Thanksgiving tradition? Football is a very important sport to American culture, and quite easily accessible. All that's needed is a football and a little bit of space in the yard and you're set.
What correlates football and Thanksgiving is that the NFL has been scheduling games on this day every year since its inception. With the recent advances in technology, three Thanksgiving games have been nationally broadcasted for almost twenty years.
This Turkey Day will be no exception as our home town Chicago Bears have the early game slot against the Detroit Lions, followed by Bills vs. Cowboys and Saints vs. Falcons.
An interesting aspect of these groups of Turkey Bowlers is that none of them play football outside of this day, aside from throwing the ball around a few times a year. While football may not be for everyone, if you have an interest in sports, it's worth a try.
Who knows, maybe the Turkey Bowl will become your family's new Thanksgiving tradition.