Thanksgiving: The 2020 reality
People celebrated a very different Thanksgiving this year. In the current times we're living through, we find ourselves doing things a bit differently this time. We won't have the extended dinner tables or the extra chairs for guests. There won't be any children running around or stories shared at the table. In 2020, we'll see a smaller, quieter environment. The real meaning of Thanksgiving, this year, is for thankfulness for what you have and celebrating that. We have to adapt and explore new ways we can give thanks!
Many families- including mine- are not having big family gatherings this year; it's the best thing we can do at the moment to keep everyone safe. This year has brought a ton of challenges, but we have to remember to be thankful we made it this far. We have to be thankful to the frontline workers who will probably not be home this Thanksgiving because they are working hard out there to fight a deadly virus imposing a big threat to the world.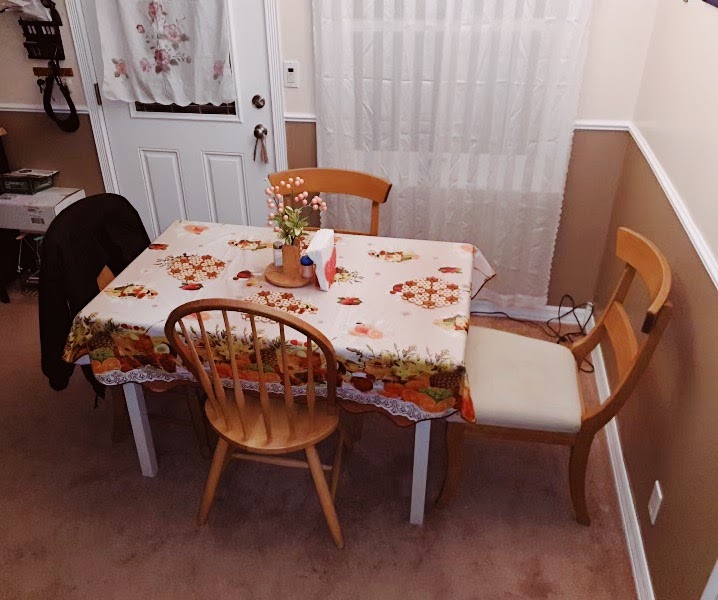 Funny to say, this year we made ribs. I can remember the last time we had a family party, and we had made ribs to eat. This year has felt so long that it is great to have something tasty for dinner. My family made ribs for Thanksgiving dinner, adding a little bit from our tradition. These are ribs smothered in Chile de árbol sauce. I like to treat myself to some ribs with my family because they are the ideal thing in our culture to have.
The smell of these ribs remind me of love from when they're in the oven to when they're taken out and you can hear the sizzling noise and fragrant aroma of spicy sauce sizzle in the air. The hunger in your stomach intensifies after waiting almost three hours to get yourself one of these ribs and bite into it… so good.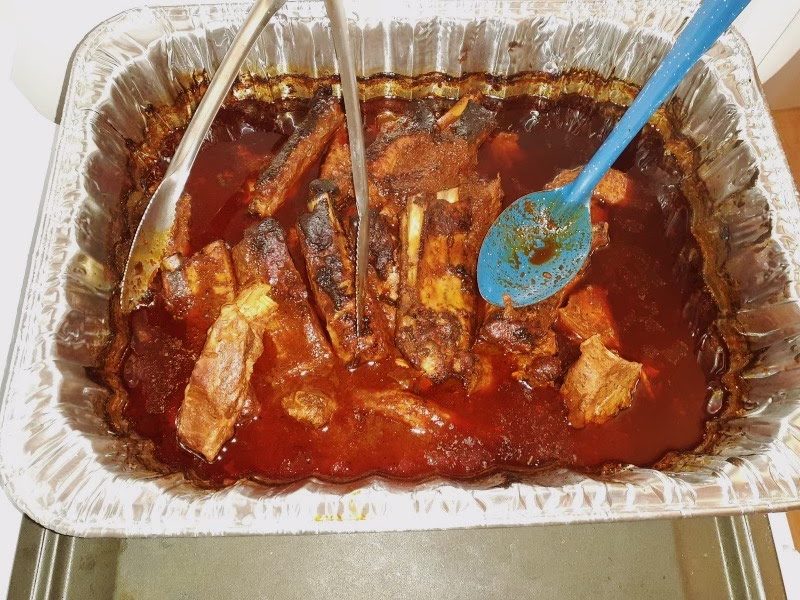 Arroz con gandules is a traditional rice dish in my culture. This time for Thanksgiving, we just cooked for ourselves, so we decided to make some homemade rice with a good recipe.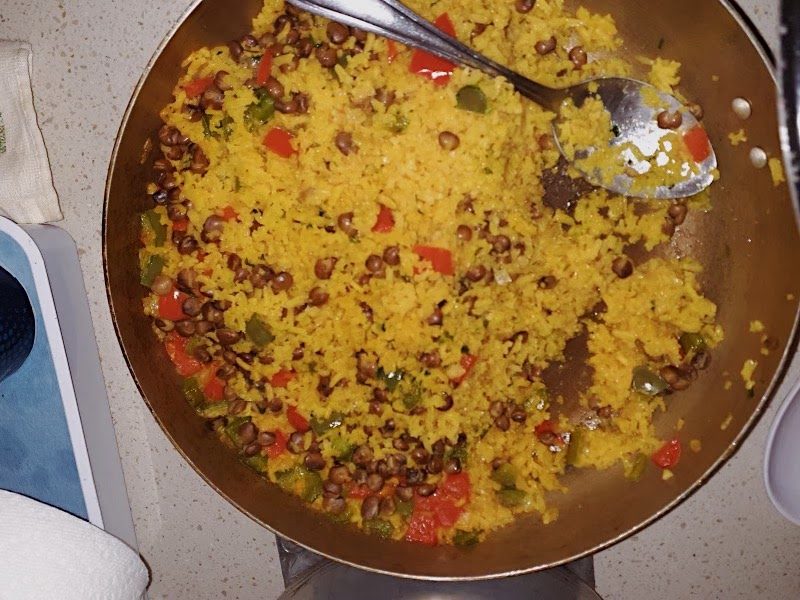 For dessert, we always make some fruit punch called ponche. Drinking some ponche and eating pan dulce is the best dessert you can have. You also can have it with concha, a sweet bread that's really famous in Mexico. It comes in many flavors and colors. It's really good, and it's always better when you make them at home.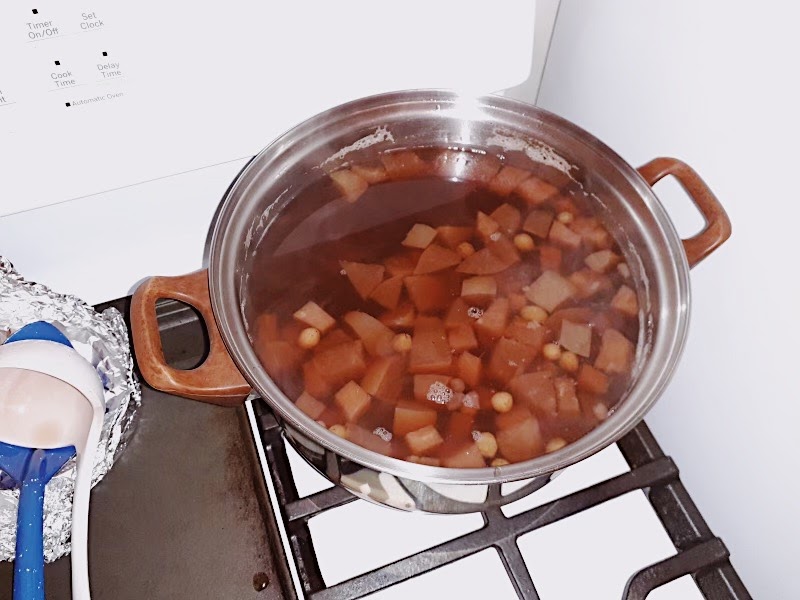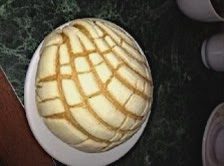 I'm very thankful for what I could celebrate this year. It wasn't a lot, but it doesn't really bother me. My family and I did what we could. What really matters is that we could celebrate and have a good time. Later when we were on the phone with my uncles and family, they described their experience this year as really weird without having everyone over for dinner this year.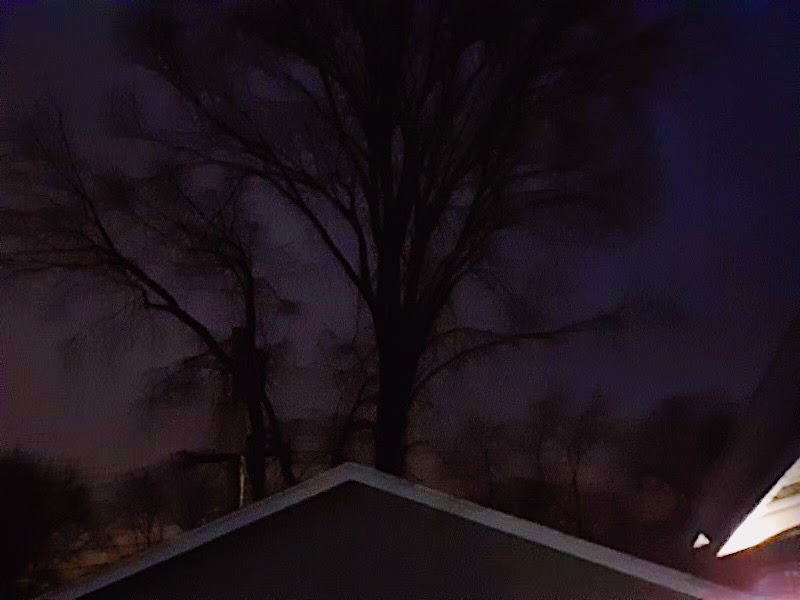 I made a list asking my family what they're thankful for this Thanksgiving. I decided to add some final thoughts I believed could not be missed when you find yourself thankful for so many things. 2020 taught many of us to adapt to new experiences and overall test ourselves to see if we are prepared for any challenge that can come ahead in the next few years.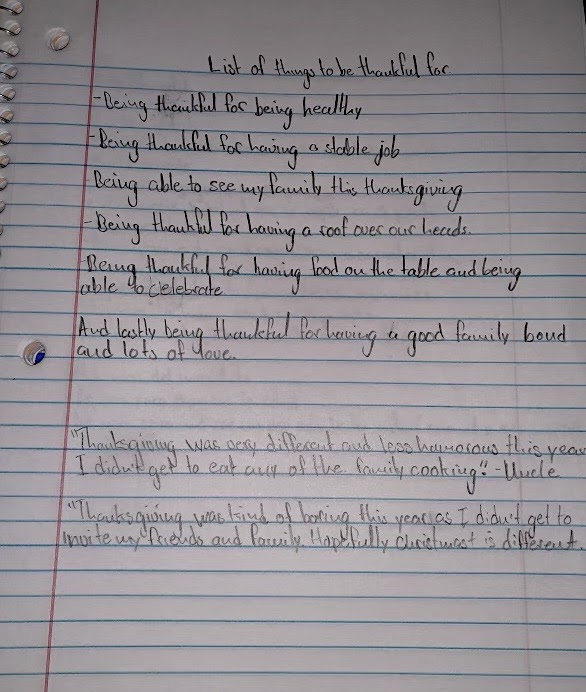 I saw some lights coming from the end of the avenue Thanksgiving night. To my surprise, it looked like someone had already put up their Christmas decorations. It was one of the few houses in the area that had already put up their decorations ahead of time. It's my first time living in this area, and it's nice to see that some people have a jolly spirit and cannot wait for Christmas to come since it is right around the corner! Thanksgiving is now officially crossed off the list, one more holiday to go!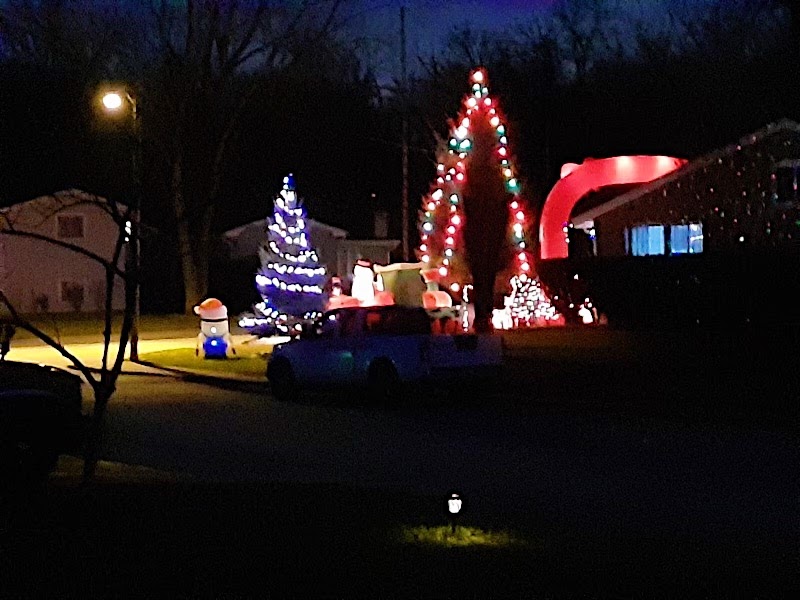 The truth is, Thanksgiving was really hard for some this year. Some of our parents will miss having our grandma help them in the kitchen with the desert or turkey. Some of our mothers will feel like they are missing the main specials for food preparation. We all will miss seeing our friends and guests like our uncles or grandparents at the dinner table, hoping they stay longer. We'll miss the noisy, chatty table full of stories and the kids table where the walls and floors will all be a mess. Hopefully those images never get out of our mind and keep coming again for many years to come.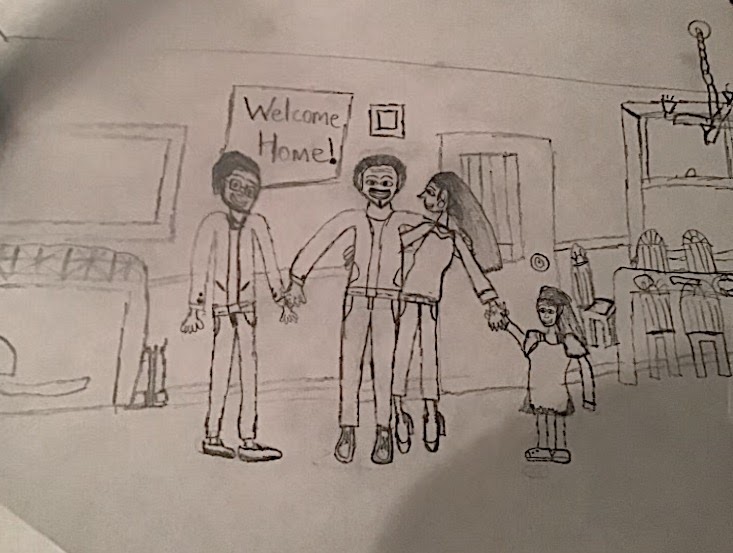 Remember to be thankful for the special things you were able to have in 2020. Whether it was your health or a new addition to the family, we have to remember that this will all be over soon. The value of thankfulness and giving back to others is the most important and special experience this Thanksgiving. Soon we'll be able to reconnect with friends and family. If there is one important thing to take from this Thanksgiving, it is to reinvent ourselves and become creative. That's what really helped make this really special: creativity. Don't worry and keep yourself safe and healthy. Next up, Christmas!