Orchesis senior's experience during coronavirus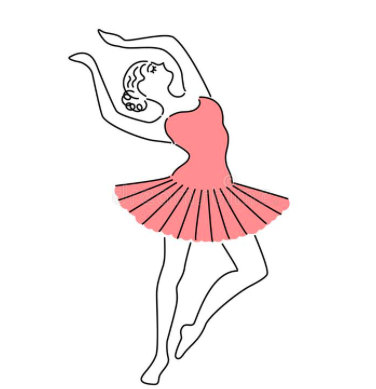 Senior Morgan Scariano made her way onto the stage on Wednesday, October 28, along with her fellow Orchesis seniors, ready to perform their annual Orchesis Fall production. Numerous heat lamps scattered around the stage with the crew, parents, and directors bundled up in big winter coats during the chilly evening. The stage lights illuminated the dancers as they settled into position. So much has already been taken away from her year of lasts, but despite the circumstances, appreciation and gratitude flooded the air.
Scariano recognized the few parents watching in the audience but this wasn't the typical audience filled with howling applause and cheers.
"As a senior, I am truly very sad about not being able to experience my lasts," Scariano said. "Even though we had the opportunity to do a virtual concert, I am still going to miss my last fall and spring Orchesis shows. They were such a big part of my life for the past three years in high school.".
Scariano co-choreographed a jazz piece for the fall production knowing the regulations she had to obey. Half of the rehearsals were on Zoom and the other half were in-person. Before lockdown, Scariano's co-choreographed piece was a dance mixed with dancers from all four grade levels. Due to CDC regulations, their piece was split among the grade levels: seniors and juniors together and sophomores and freshmen together. Both groups perform the same dance at different times. D Modifications were made to the dance in order to maintain social distancing on stage, adding parked difficulties for Scariano and her co-choreographer because they had to rearrange their piece and change parts of choreography to ensure safety.
"Towards the beginning, it was definitely a hard transition to go from dancing in-person to dancing through a screen inside my home. I had a hard time reversing movement and choreography, as well as keeping people motivated on zoom," Scariano said. "Once we went back to in-person rehearsals, social distancing was difficult to maintain through choreography. For many, it took some getting used to, however, through all of it we have made the best of the situation."
Scariano finds that a virtual concert is far from being a real concert. Being able to hear the crowd roar in applause truly washes the feeling of accomplishment and satisfaction on the dancer but Scariano and her co-choreographer's hard work and dedication demonstrate true leadership.
"I am so grateful for all we have been able to accomplish this year considering the circumstances, however, this year's virtual show wasn't the same compared to a live performance in front of an audience. I missed the feeling of seeing my friend's and families' faces watching the show, as well as being on a real stage," Scariano said.
As a dancer, your natural instinct is to move. Creating big movements filled with meaning is why dancers are so passionate about what they do. With this year's setbacks, big movements plus many dancers on stage doesn't comply with state regulations. Orchesis has many traditions for its dancers but this year, they look different. Artistic Director Nancy Creswell and Assistant Director Katelyn Reyes have planned ahead to provide the company with their traditions.
"Orchesis has many traditions that have been developed over the years. Both the dancers and I always look forward to the many performances we normally have on an annual basis. The only way we have been able to have many of our traditional fall events is by planning far in advance and then adjusting wherever necessary to stay within the CDC safety guidelines," Creswell said. "We had to understand that the final product would be different, but still of great value.".
With the circumstances, the dancers chose to "Rise" as a group, hence the Fall Production theme.
"Together, my friends and I have tried our absolute best to make this year as normal as possible," Scariano said. "With Orchesis, we worked with one another to be successful in performing our Homecoming dance outside, doing a senior photoshoot at Citizens park, and doing a virtual concert on an outside stage.".
Despite looming COVID-19 restrictions, Orchesis was able to carry on key traditions for the dancers.
"Watching my dancers create and perform in a beautiful concert was inspiring. I was very proud of each and every one of them. I was grateful to be able to give them this opportunity to perform and thankful that they saw the vision," Creswell said.