'Spin N Curl' hair curler: Amazon review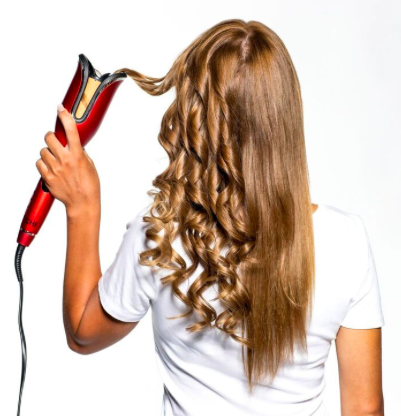 There are endless kinds of products used to curl hair. From the classic curling iron to curling wands, hair crimpers, pin curls, hair rollers and more; the list is honestly endless.
I have tried most of these products over time, either by borrowing them from my mom or sister, or buying them for myself, trying to find the best one for curling hair. So, when I stumbled upon a TikTok video of a girl curling her hair with a unique type of curling iron, that didn't look anything like the curling iron I was used to, and that was supposedly very easy and quick to use than a normal curling iron, naturally, I was intrigued.
And when I went to the link on Amazon, finding almost all five-star reviews raving about this product, naturally I bought it to try for myself.
First of all, this product is called the Spin N Curl ceramic rotating curler, and it is 62 dollars on Amazon. If you want a color other than black the price is higher and can be up to 99 dollars. I bought the rose gold one, which was 99 dollars. This product is shaped like a cylinder, with a little digital screen that, when turned on, shows the temperature.
The top of the curler has an opening where your hair goes. According to Amazon, this area is called the curl chamber and the curling barrel is what actually heats up and what your hair wraps around.
To use this, you put a small to a medium strand of hair in front of the opening, holding your hair so that the back is touching the curl chamber.
Next, there are two buttons indicating which direction you want your hair to curl. Hold down on one of these buttons (depending on which direction you want your hair to curl) and your hair will be sucked around the curling barrel. Once it is around the curling barrel, the curler will keep your hair in there for 10 seconds and it will beep once it is done. Then you gently pull the curler down so that your hair comes out with a perfect curl!
But, it does take a while to get used to this kind of curler and to get the hang of it. The first time I used mine I put too big of a hairpiece in and it wouldn't curl and got tangled. Thankfully your hair cannot get stuck inside of this! (Which was one of my top fears!)
Instead, if you put too big of a piece into the curler it will make a beeping sound, releasing your hair and turning it off so that your hair stays safe. So, that was a major plus for this product.
Now that you know the general idea of how this product works, here are the pros and cons that I decided on. For background information, I have long hair that is naturally wavy/sometimes curly-ish hair, and it has medium thickness. My hair can take a while to do when curling or straightening it if I don't use the right product, but my hair holds curls pretty well, to begin with.
Pros:
1. This product takes very little time to use, a lot shorter than it takes to curl your hair using a normal curling iron or wand.
2. It makes very pretty curls.
3. Easy to hold and doesn't hurt your hand or make your arms sore.
4. Very efficient, meaning that you can curl your hair in 15 minutes and it will look ready to go. Short time used and lasts long!
5. Very versatile and can make bigger curls or smaller curls, depending on what you want and how big a piece you decide to curl.
Cons:
1. Can take a little bit to learn how to use.
2. You have to be specific in the amount of hair you put into the curl chamber. If you put too much the product will turn off and your hair can not curl all the way.
3. A little pricey.
Overall, I really really like this product. I bought it in July and have been using it ever since! I would definitely say that the pros outway any of the cons, and the Spin N Curl hair curler from Amazon is Gia approved! (Haha, approved by me: Gia!) This product is worth the money because it takes me only 20 minutes or less to curl my hair and it's easy to use and travel with!
If you're looking for a new hair curler and want to invest in a good one, I recommend this! Who knew you could find out about amazing hair products from TikTok?