Chloe Ting: Flabs to abs
With spring break coming up, it can be easy to sit back and relax, but it's also important to stay fit and healthy. Without leaving home or buying a subscription, and with little equipment and room required, free YouTube videos are perfect for exercising. Chloe Ting, a popular fitness YouTuber and TikToker, offers multiple options including thigh, flat belly, abs and butt, arm and core workouts. One of the most popular workouts is the "Two Weeks Shred Challenge."
Chloe Ting provides fast-paced beginner level workouts with a schedule intended to get you back in shape quickly. The number of videos a day increases deeper into the workout, and if you're motivated enough to give 100 percent and stick through it, it's a great way to workout in the comfort of your home.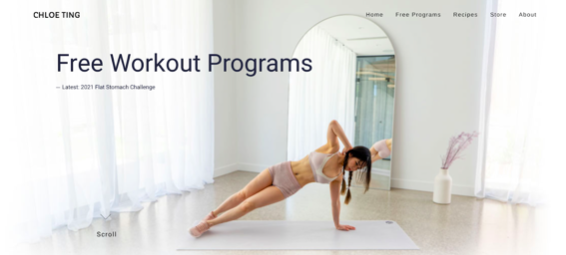 PROS:
Flexible schedule
On her website, Ting provides an online calendar to track your fitness plan and determine which videos to complete daily. If you're the type of person who likes a clear routine, her videos are consistent and repetitive. However, the schedule is also flexible and you can choose to take a rest day or to watch whichever videos you prefer.
Professional
Chloe Ting acts as a free personal trainer and is professional and motivational, doing the workouts along with the viewers. The website and timer in the corner of the video are also very helpful. Sophomore Arianna Colgrove found that the professionalism gave her more motivation.
"I did like how professional it looked because it made me feel like I was doing better and not just watching a 13-year-old tell me to do 100 push ups. I also like how it felt like there was a community and multiple people doing it," Colgrove said.
Simple Exercises
If you're a beginner at exercising, most of Ting's programs are low intensity and low impact but still deliver a full-body or a more focused workout. According to sophomore Emily Broderick, there were a variety of different options.
"I thought they were kind of in between, some of the workouts were difficult whereas others were harder but she offered modification, and I thought that as the time went on the workouts got easier. I just liked the way that she did it compared to others, I felt motivated and excited, and I'll probably start doing them again soon!" Broderick said.
Senior Jade Morantez, who was taking a break from gymnastics at the time she did the workouts, found the exercises a bit more challenging. Senior Mary Kaelin also did the workouts during quarantine and thought they were a little boring and repetitive but successful.
"They were relatively short workouts but definitely made you sweat. I liked how she set it up visually with the timer and stuff and I also liked how it was mostly low impact but quick hard workouts. They are definitely hard!" Kaelin said.
Results
Though she quit early because it was too time consuming and exhausting, Colgrove still saw some results.
"I did see some results of weight loss and a little toning but not much since I quit early," Colgrove said.
For people who are less keen on working out, Chloe Ting's programs are a difficult challenge, but they will still show results. Sophomore Iqra Hussain tends to stick to cardio workouts, but tried out one of Ting's ab-focused workouts.
"The workout as a whole seemed efficient enough to accomplish its said goal (getting abs in two weeks). This was my first time searching up an abs specific workout. I didn't fully comprehend what I was about to put myself through. Just six minutes into the video, I felt exhausted," Hussain said.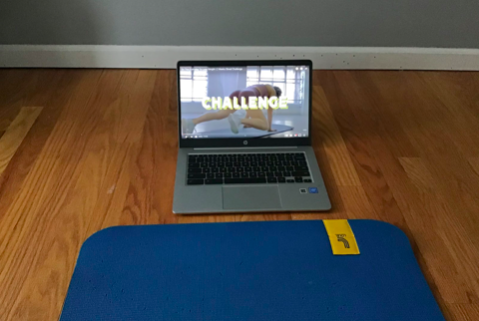 CONS:
Different people, different preferences
If you're looking for a longer and intense workout, there are some other free programs similar to Ting's that you might like better. For example, freshman Betsy Aguilera tried both Chloe Ting and Sydney Cummings workouts, and found that she preferred Cummings.
"I saw faster results with her than with Chloe Ting and felt more motivated to keep going. With Chloe Ting it was supposed to show a two week result, but with Sydney Cummings I saw results in around three days, and I think the reason I saw results longer was because the workouts were longer and more intense," Aguilera said.
Pacing
For some the pacing of the videos is a little too slow, and for some it's more intense. Since the daily videos are also a bit repetitive, senior Sydney Collins lost motivation and would've liked them better if the pacing gradually increased.
"I liked that it was fairly short and stayed consistent… like you knew what exercises you would be doing. I didn't like how fast paced it was at the beginning like you couldn't really work your way into harder things," Collins said. "I never really saw a result, but overall I thought it was good, I just wasn't motivated enough to keep up with it."
Loss of motivation
In the end, it all comes down to your personal goals, consistency and motivation level. The key to seeing results in any fitness program is motivation and pushing yourself when you want to give up. Breaks are OK, but in order to see results you need to continue the program. Most people said that Ting's workouts were effective and they just quit from exhaustion, but if they had kept at it they would've seen results.