Virtual athletes: athletic heroes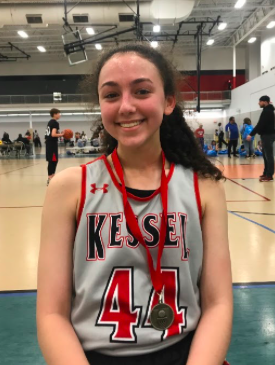 Sports are a good way to stay active, especially for sophomore Emily Mann. However, due to the pandemic she's had to take some precautions to stay safe, which limit her ability to play basketball ideally.
Mann is being cautious to protect her family from the virus, so she is virtually working out with her coach/trainer and isn't playing on the school basketball team this year. Mann expresses how she's keeping her family safe, but how it's also a very different environment and experience.
"I've always done workout videos at home, it's a lot stuffier. I workout in my storage room, which is a little cement room. It's very, very tiny. I can't shoot the basketball indoors and I use step stools as people. Compared to a gym where you have a hoop, a court, I can run wherever I want to run, I'm not cooped up and claustrophobic. I have a hoop outside, but I'd rather be in an air conditioned building. During the summer I would train outside, I almost had a heat stroke a couple of times and hit our car on accident, lots of fun," Mann said.
There are definitely advantages and disadvantages when doing your sport online, it looks very different for everyone. Mann has had her own personal difficulties to overcome.
"I started seeing Quincy (Mann's coach) online and it was really weird doing basketball workouts in my basement on Zoom, I've never done that before. My biggest challenge is probably the space, I just feel claustrophobic," Mann said.
Mann explains how there are some components that are still familiar while shifting to her routine online. Not everything is completely different and she can still find motivation.
"It's kind of the same online with my coach, Quincy, except it's on a Zoom screen. It's a little weird when I'm in my storage room and he's sitting on a couch, not working out with me. It's still motivating though 'cause he's still talking me through the drills I'm doing and whatnot. But I do miss going in person, seeing a coach and having them motivate me, getting immediate feedback," Mann said.
Although so much has changed, Mann still finds comfort in her situation. She doesn't get to play on a team this year, but she remains positive.
"Socially, it's been a lot different. I don't really talk to any of the Barrington teammates anymore, which is weird 'cause I was constantly with them. But I'm kind of OK with it, it's more stressful being around other people than it is being by myself. I prefer to be alone sometimes."
Mann can't do some of the things she used to do, but that doesn't keep her from being active. She adapted and is still pushing herself.
"Every single day I have a Zoom call with Quincy for about an hour, and I just do ball handling drills, I do conditioning with him. Then, on my own time, I do ball handling videos and further conditioning. My mom and I also like to go on walks together," Mann said.
Mann has had a long basketball journey, she's been playing since elementary school. She expresses how she loves playing because it's fun, it drives her to have goals and make new relationships. She's learned a lot through the years.
"Some advice I'd give my past self… you don't need validation from others to know your worth," Mann said.
Your donation will support the student journalists of Barrington High School - IL! Your contribution will allow us to produce our publication and cover our annual website hosting costs!