Fixing an Apple a day
Library Tech Assistant Ian Roets sits down to give students the run-down on iPads, his experience with technology and opportunities for students who want to go into (or get into!) technology.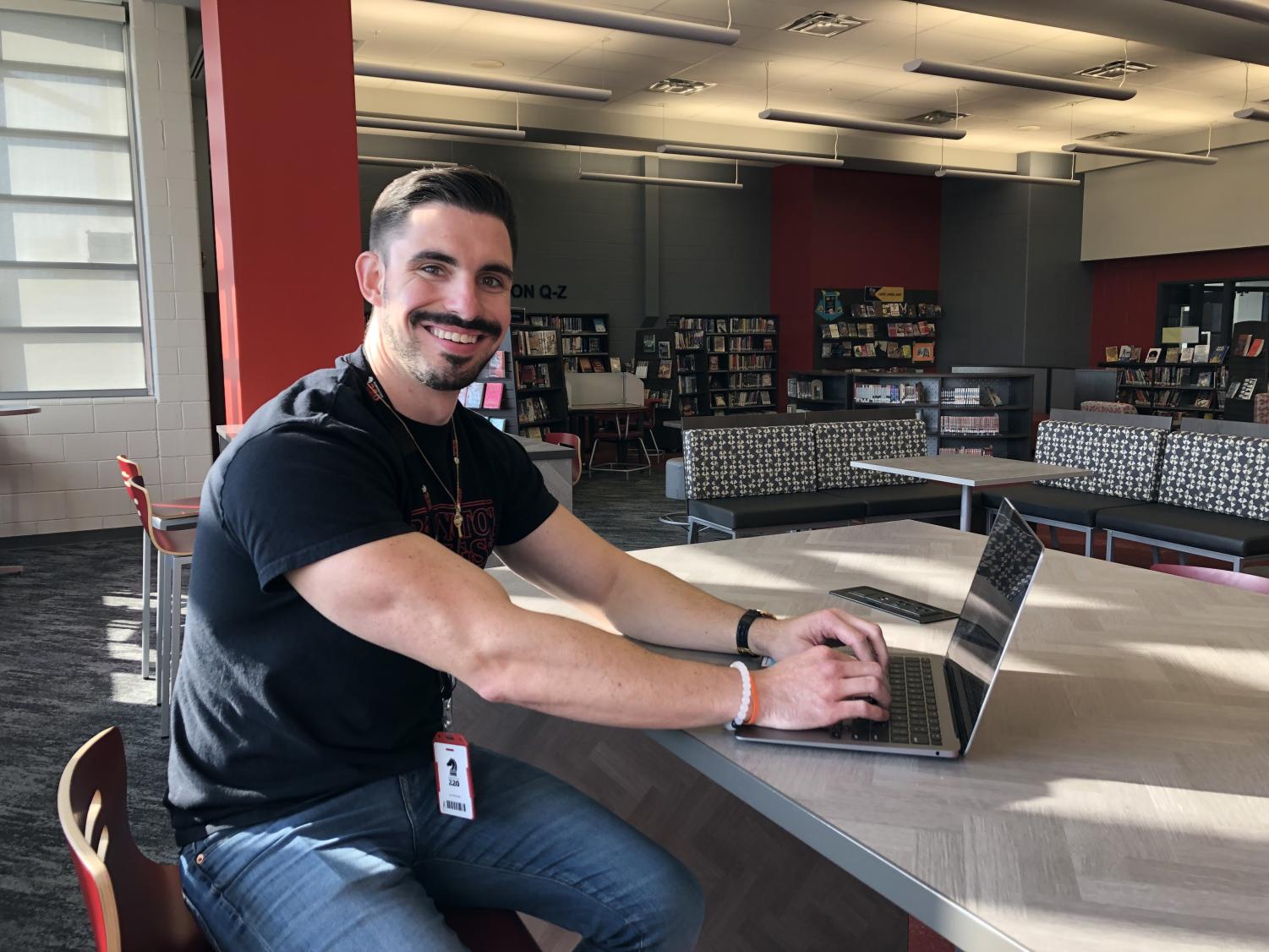 Ian Roets has worked at Barrington High School for more than two years, helping students every day in the library. From book suggestions to fixing technology issues, Roets contributes to the school experience for hundreds of students. After attending the University of Iowa, Roets worked for two years at Apple, constantly getting hands-on technology experience with the newest Apple products. He hopes to spread both his lifelong passion for technology and his newfound love of teaching to the students.
What would you say is the most common tech-rated problem?
A lot of weird things with Notability, which probably isn't super surprising to you guys. Weird things with the Logitech crayons – definitely got some issues with those – and cracked screens. We see cracked screens multiple times a day, every day, so that's not completely out of the norm either. It's funny when a student comes in and they're like, "Oh no, I cracked my iPad and it's really bad!" I'm always like, "Oh, it's not that bad." Trust me, whatever they have, I've seen worse.
Did you have some piece of technology growing up that you were really interested in?
I was in a weird spot when I was in high school. It wasn't like you guys, the One-to world program with every student having an iPad – technology only became more accessible as I was in middle school or high school. When I was younger, I would say probably the biggest piece of technology was a Gameboy Color. I remember that and my first iPod were the two pieces of technology where I was like, "Oh," you know, "this is really cool." I always kind of felt myself gravitating towards new technology and seeing what was out there. When I was in school, we had computer labs and typing classes and things like that, but we definitely weren't as involved in technology as what I see in the student body here. For me, it was still a lot of pencil to paper.
Did you always want to come back to the area and give back?
Barrington itself? No, just because I don't have a lot of experience around here – I live an hour away. But I've come to learn that Barrington looks after their own. I love Naperville and it's a great town, but it's a lot bigger. Barrington has a different feel to it. There's a lot of pride in Barrington, something I find to be very contagious. So in that regard, it is pretty easy to come to work every day, knowing that I'm working for such a great district and a great community, giving back to somewhere that actually will appreciate it.
I know you're not exactly new here, but did you feel that from the beginning?
In my first year, I was only 24 years old. At first I was a little intimidated, just because I was the new guy and I was younger. When I would walk the hallways and see other teachers, I was worried they might think I was a student. But I didn't feel out of my depth for that long, only the first few weeks. I quickly became very comfortable and was happy to come to Barrington every day
What is technology going to be like here at school? Are new iPads or computers coming?
We are looking at potentially an iPad refresh in the spring. We're not entirely sure what that's going to look like, but there are going to be new iPads here in the future for the second semester or late spring. We have 'The Box,' the creativity lab in the library, with iMacs accessible for students to use for coursework. Adobe Suite, Illustrator, Photoshop, iMovie, GarageBand, cricuts, 3D printers, digital cameras, light boxes, and a recording curtain studio are all in there.
For people who want to get into tech, what do you think people should do when they have so many opportunities?
There's a lot of things that [tech courses] do that I don't even know about, like mobile apps development, which is a really, really cool course. [In] graphic design with Mr. Zimkca, you get to use a lot of cool technology there and do some pretty cool projects – I know they did a project a couple years ago where they designed their own book covers for books in the library, and we still have the covers. We have a lot of cool stuff that goes unexplored.
I've heard you used to work at Apple. What was that like? I know it's a lot of people's dream to work at Apple.
I worked for a retail location in downtown Naperville. I was what was called a specialist, so essentially it's a glorified term for a retail salesman. I had knowledge on pretty much all new hardware and software that Apple provided: iPhone, iPad – you name it, I pretty much had to be up to date on what that product was. There was a lot of training involved, but that was pretty much my job – to drive revenue for Apple stores.
What was your path as you figured out what you wanted to do? How did you figure that out throughout high school?
I went to school to be a marketing major. I didn't envision myself working with students, but it's just something that kind of fell into my lap. Apple is where I got into education. There are courses that are offered at Apple called 'Today at Apple,' where essentially they run these little forums where you teach small to big groups of people how to do certain things. Mrs. Anderson, the librarian here, knows me from living in Naperville. Once there was a job opening here in the library, I ended up interviewing and getting it.
I've never heard of Apple camp before. Are there any really good opportunities for people who want to get into tech?
What I can speak on the most, just because that's what my background is in, are the Today at Apple classes that are free to sign up for on Apple.com. [They can go from] very basic to very advanced; starting with iPhone all the way up to coding [as well as] more creative things, like music production and screenplays. The high school is looking to piggyback off of that and make our own version called Today at BHS. We've been putting our heads together to figure out how to teach you guys about your iPads and Macbooks. The other thing is called the STAT team, which is for students that want to earn credits by being a mini LTA in the library and help other students with iPad troubleshooting. We would help train and give students the tools to help their peers. We're looking to introduce [that] either next semester or the beginning of next year.
Do you know if that's going to be a class, honors credit, or a volunteer opportunity?
It's gonna be application based, but you're actually going to be able to earn credit for it, whether that comes via volunteer hours or that comes via actual course credit. It would be something that would actually go on your course load and would read like a registered class with hands-on experience.
What was the transition from working at Apple with customers to working with kids? Is it similar or is it different?
It is similar in a way where it's still a customer service sort of job. I try to give my best service I can to everybody who walks into the library, the same thing when I was working at Apple. It's about giving the person the best experience you can, being personable and making them feel comfortable. The key difference [between the two is] this isn't a revenue-driven job, so I'm really able to give individualized attention to whatever student needs it. At the Apple store it [was], "I've given you all this help, but do you want to buy?" It's a bit more genuine and natural when you just get to work with a student rather than [being] revenue and sales-driven.
Was working with kids something you always wanted to do growing up?
Not really, if I'm being fully transparent. I have experience working with kids, though. I used to be a soccer player in high school and going into college. I have done college soccer camps, where kids would come out to our college field and we got to play soccer with them and teach them the game and show them the tactics. When I say that I never saw myself working with kids as a job or a career, I really didn't, but at the same time, I've always enjoyed working with students and children. Even though I never envisioned myself doing it, I'm happy I ended up where I did because it has become a very fulfilling and satisfying portion of my job.
What is the best part about working with kids?
You guys are really fun to work with. You're funny, too – you guys are always cracking us up. It's very fulfilling if a student comes in needing help and I'm able to teach them something new. I didn't know how often I was going to be working with you guys, but it's extremely enjoyable getting to know everyone.
What is the strangest or funniest thing that you've overheard some of the students say?
There was one student who was talking about how over the weekend, I guess it was on a Monday, he was trying to warm up a pizza in the oven and he almost wrecked his house down – some of the details were really, really funny. It was a group of kids that were hanging out right next to the desk and we were all dying laughing because you guys are really not as quiet as you think you are.
What is your favorite thing about working at BHS?
Working with students. To me it was the biggest question coming here, as I'd never really worked with high school students before with anything education-based or tech-based. You guys are really, really fun to work with, and getting to know all of your personalities has been very fun and rewarding. It's something that I didn't know I was going to enjoy as much as I have. I've gotten to see all freshmen grow into juniors, and it's crazy seeing how different some of you guys look! Working with the students in general is probably my favorite part of it. You guys are awesome and fun to work with and funny and just overall a good group of kids at BHS.
Your donation will support the student journalists at Barrington High School! Your contribution will allow us to produce our publication and cover our annual website hosting costs.