A 'shoe-in' for success
Many teens save up money to buy new shoes. Senior Shane Beniek has saved enough money to lease a storefront selling shoes.
Pair after pair, they realized reselling shoes could turn into a serious business. Beniek and his older brother Joshua Beniek '20 have turned their passion into a business.
Their business started after Beniek sold an old pair of basketball shoes in the sixth grade. He continued to resell and it quickly became a hobby and an easy way to earn money. When the pandemic happened, around four years later, Beniek became serious about turning his hobby into a business.
"I didn't really take it seriously until the pandemic hit. Once the pandemic hit, that's when I realized that this is what I want to do and I wanted to pursue that," Beniek said.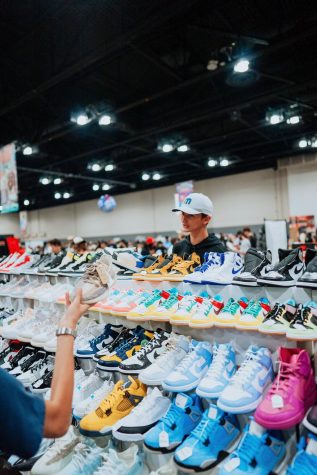 Beniek's own father is an entrepreneur. Although he grew up around one, becoming an entrepreneur never really crossed his mind. After realizing he could make a living from doing something he liked, Beniek used skills learned from his father and started a business.
"It's a lot of my dad who challenges me to go past my limits. When opening up the store, I needed a lot of advice so I knew where to start. He's always been there to tell me what to do," Beniek said.
Beniek emphasized the importance of creating connections when starting a business.
"Having connections is one of the biggest things… connections is what will boost your business a lot," Beniek said
He also explained that failing is an important part of learning. Beniek has been scammed several times while buying shoes to resell.
"There's been a lot of times where I've been scammed… I've been scammed for over $10,000 probably, but being scammed has helped me just because it teaches you how to get over these challenges. If I didn't get scammed, I don't think I would be where I am today," Beniek said.
Beniek had social media and the internet to make his business successful. He started off using Instagram as his main source to sell and he recently launched his website, highestofficial.com, that he now uses to sell shoes.
Even though owning a business as a teenager makes for a conversation starter, he's only sold shoes to his friends about four or five times.
"Those four or five times have been kind of special just because they're my friends and they're wanting to spoil my business," Beinek said.
Beniek and his brother now have their own retail space (115 North Highway Barrington, IL 60010) which opened on September 24. In hopes that opening up a store in his hometown will attract more students, Beniek and his brother are excited for the near future.
Your donation will support the student journalists at Barrington High School! Your contribution will allow us to produce our publication and cover our annual website hosting costs.