Ceramics students create unique Funko Pops
Recently, while walking through the Fine Arts hallways, you may have seen some handmade Funko Pops displayed. Inspired by the Barrington district annual school theme We Belong, Jason Burke, the ceramics teacher, gave an original project to his students.
Regardless of their level, they were asked to create a Funko Pop that represents them or that they can identify with. As the reason for choosing the form of a Funko Pop with a predefined amount of clay given, teacher Jason Burke believes:
"A part of making art is having a constraint because too much freedom makes it hard to focus on one thing."
Thus, the goal of this assignment was to let them express themselves in a unique way. After all the effort they put in during three weeks, some students were willing to show their final work.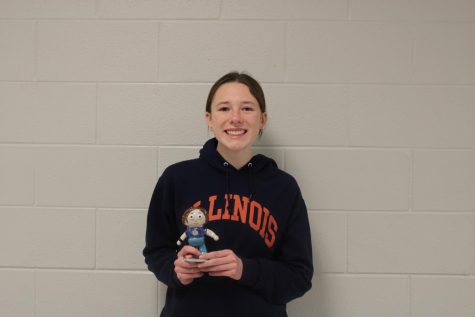 "This project went smoothly compared to some of my other ones which is kind of surprising but I had fun," junior Allie Edwards said.
She wanted to make a creative Funko Pop that looked like her. The part not to be missed is certainly the moon design on the t-shirt, inspired by her love of stars and stargazing.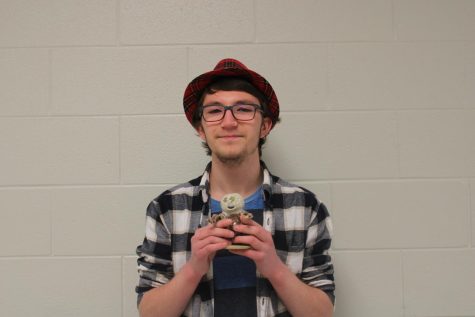 "I'm a Star Wars fan and I wanted to make Emperor Palpatine so I tried my best, making it all work," junior Justin Aguiniga said.
Even if he encountered difficulties with the lightning coming at the extremity of both hands, he is really satisfied with his work and especially with the head that came out just as he wanted.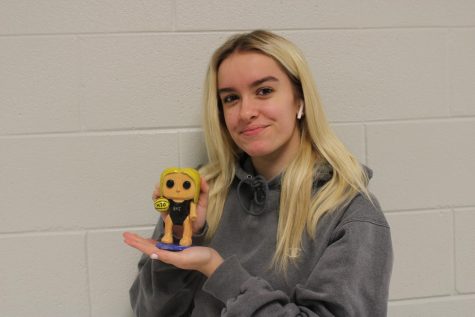 "I actually play varsity water polo at the high school and it's my current favorite sport since I dedicated so much time to it, so the best way to represent myself is as an athlete," senior Alex Venturi said. "I had to take it home and work on it since I'm kind of a perfectionist," Venturi said.
Being truly invested in the project. For the first time, she had to mix glaze by herself which she really liked.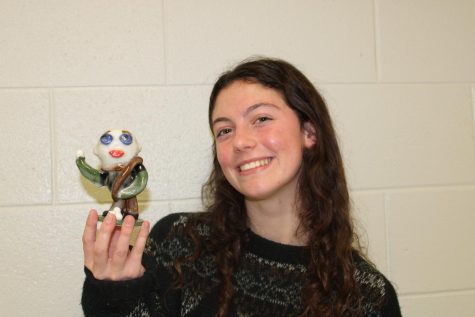 "I wanted to do something wintery because I knew when we were ending the class it'd be December and almost Christmas," sophomore Katherine Katula said.
Originally, she was going to create something that looks like her, but it went sideways in the middle of the project. However, she finds her final work cute, especially the little snowballs at the bottom.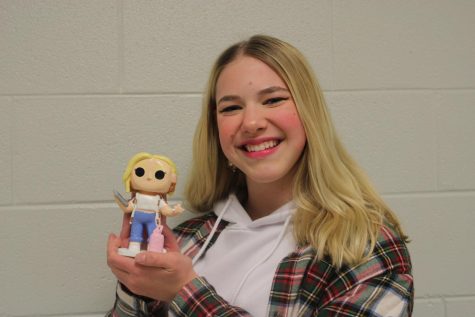 "I like the form of the Funko Pop which are very cool and I wanted one of them to look like me," freshman Olivia Schwan said.
Each additional object of her work represents her personality: she added her iPad, since she likes drawing, the little earrings because she wears some everyday and her water bottle named Kelly.
"I dropped it like three times, the head came off multiple times, the feet also but I put it back together," Schwan said.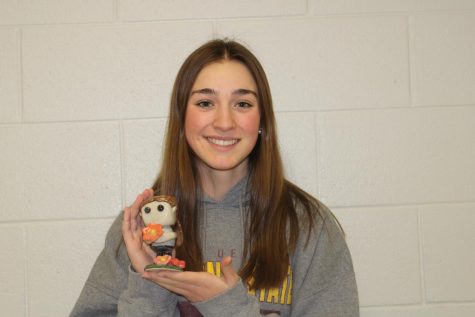 As a part of her inspiration, she explained that she enjoys the flowers and being outside a lot.
"The flowers are cool because I was able to cut them and I like how the colors turn out," sophomore Ruby Hart said.
According to what she had in mind, the ears were not supposed to look like this, she accidentally put them backwards. Nonetheless, she finds the result satisfying and cute.
Each Funko Pop came out differently according to the student personality, showing their uniqueness and it is what makes that assignment really interesting.
Your donation will support the student journalists at Barrington High School! Your contribution will allow us to produce our publication and cover our annual website hosting costs.