Renovation and construction plans for the foreseeable future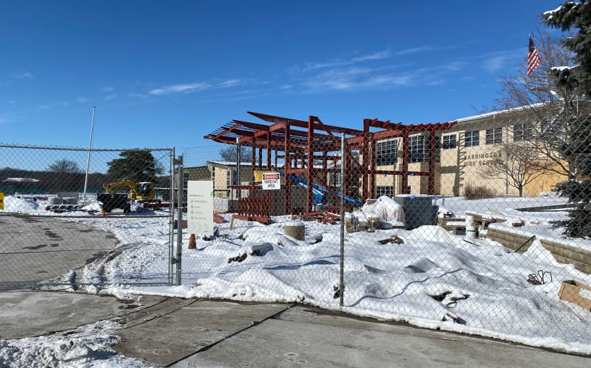 After slight delays, the renovations in and around the school—updating the Commons, cafeteria, outdoor areas, and other areas within the school—are slated for completion by the start of the 2024-2025 school year.
Construction on the Field of Dreams has been set back due to widespread concrete shortages and cold weather, delaying the pavement of sidewalks in that area.
"We're trying to mitigate [the paths] right now and trying to figure out, how do we transition into the spring without having sidewalks, particularly in the softball field area," principal Steve McWilliams said. "The fields are done, they're ready to play. The paths leading up to them are just gravel or mud, so sometime between now and then we'll transition them from mud to gravel, but it probably won't be until April or so."
In the front of the building, construction on the new atrium addition is scheduled for completion by October of this year, which is where the Commons will be relocated to. The remodel will add several new features to benefit students.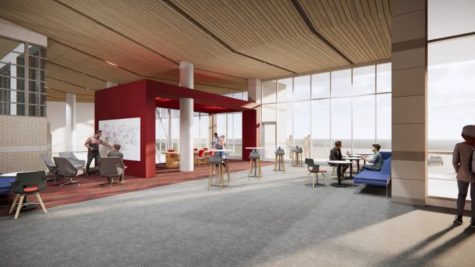 "There's the atrium space, there's a small meeting space, and then there's a bunch of little spaces up where the old Main Entrance used to be. They're like mini Commons rather than having this big, massive, loud Commons. It's a little bit more intimate, a little bit quieter," McWilliams said.
The Student Services section, currently across from the Commons, will be relocated this summer. Its new location will be behind the current Nurse's Office, and will better suit students' needs.
"That area is going to be kind of a one stop shop for students. You need a new ID, here's where you go. You need help with your lockers, here's where you need to go. You need to have some support in some way, change a class, see a counselor about something, it's all right there," McWilliams said.
The front parking lot and bus lanes in the back of the school are scheduled for improvements over the summer of 2024, adding additional exits and safety features. The current design is unsafe, McWilliams noted.
"You shouldn't have a major thoroughfare going down the middle of your parking lot. [The new design] breaks it into rows to slow down the traffic, so you have to be more intentional about moving through the lot," McWilliams said. "We're fixing the bus lanes in the back so you don't have to load in two different spots."
During that same summer, the cafeteria will be completely remodeled, featuring smaller breakout rooms for clubs and student council, as well as large screens for student-driven content.
"What I really like about it is we're done with the institutional seating. The seating is designed like it would be for a restaurant," McWilliams said. "It's hopefully a space that students will want to be in eight periods a day."
McWilliams noted that construction will have minimal impact on the student body as a whole—as long as there are no more delays.
"We're going to have some inconvenience as we go through the spring. But we're trying to change the wings on the plane as we fly it. It's not real practical to land the plane and fix these things but it times out nicely," McWilliams said.
Your donation will support the student journalists at Barrington High School! Your contribution will allow us to produce our publication and cover our annual website hosting costs.