Chicks!
Chicks Week 1: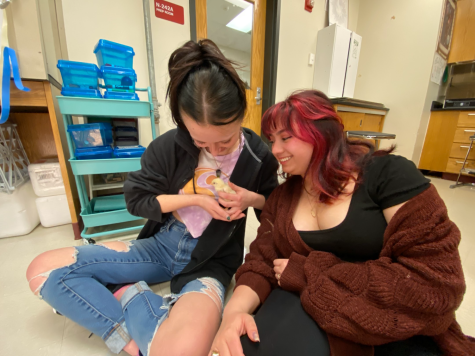 Seniors Alyssa Farbaky and Bella Gallo smile and hold a baby chick during class. Farbaky, who is in AP Biology, loves learning more about the course through the baby chicks. "The baby chicks made my week! They are so fluffy and cuddly!," Farbaky said.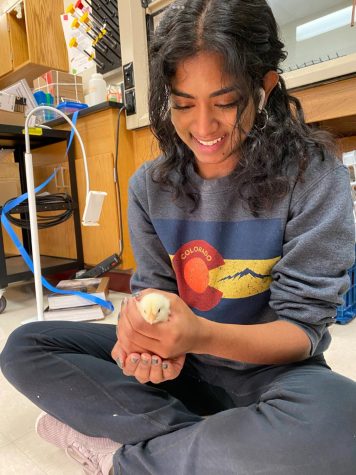 Senior Aarya Arun holds a chicken with a smile as she sits by the coop. Arun is a student teaching assistant for AP Biology this year, and she loves the opportunities she has. "It's great to familiarize myself with biology while also reinforcing my interacting skills through the chickens," Arun said.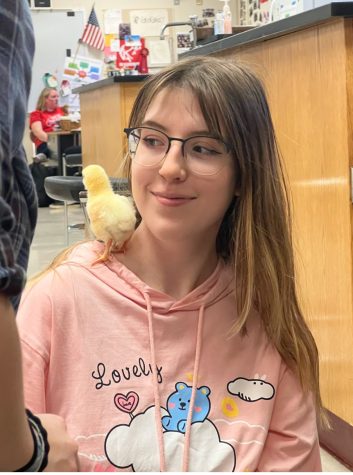 Junior Danielle Muhling smiles as a baby chick hops up onto her shoulder. Muhling loves petting the chicks after finishing her work in class. "The chicks are one of the highlights of my day! They are really calming to be around, especially as we prepare for AP testing," Muhling said.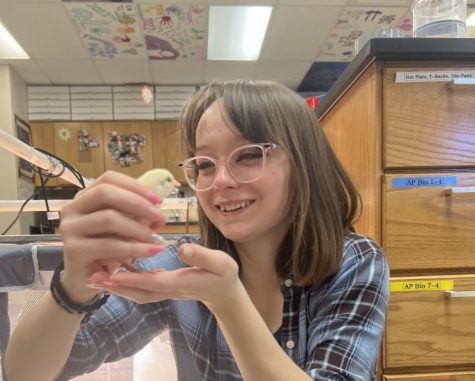 Laughing at a baby chick, senior Elise Fern shows off the chick to the rest of the class. As a teaching assistant and someone with experience caring for chickens, a lot of students looked to Fern for guidance when holding the chicks. "I have a bit of experience with handling birds and other animals. Having chicks in the classroom was so much fun," Fern said.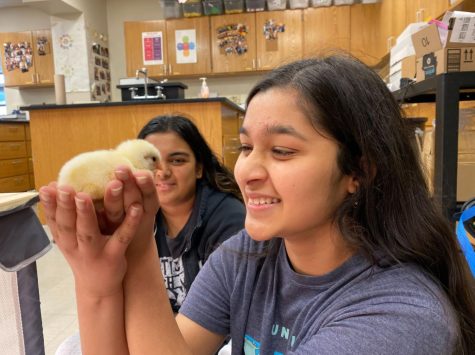 Smiling, sophomore Anika Shinde holds a chick at eye-level to pet it. Shinde loves the addition of baby chicks to the AP Biology classroom. "It's so fun watching the chickens hatch! I sat right next to them when they were incubating so it feels like I'm their mom," Shinde said.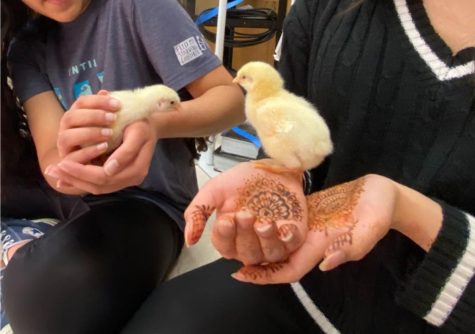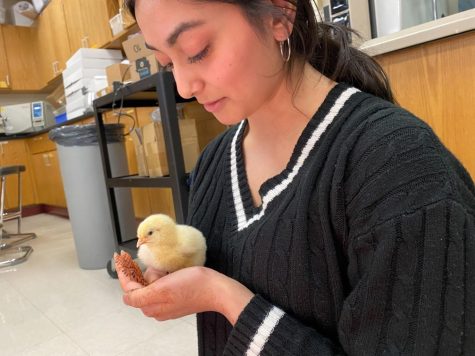 Junior Zaina Shethwala holds a baby chick close to her as she admires it. Shethwala loves the sounds of chirping birds in the background as she works. "Everyday I would look forward to playing with these cute fuzzy animals.," Shethwala said.
Chicks Week 2: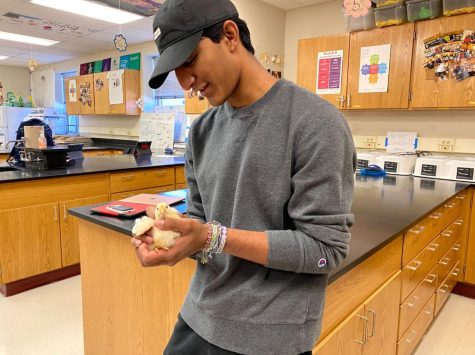 Despite not taking AP Biology, junior Krish Patel stops by the classroom often to hold a chicken. The baby chicks have drawn in excitement from everywhere, causing many students and teachers to drop by to hold a baby chick. "Well, I started coming in because my girlfriend is in that class and is the best ever, but then the chickens stole my heart instead," Patel said.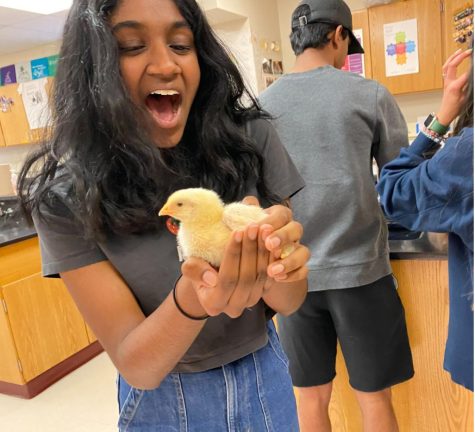 Junior Ovia Sundar laughs as she holds a baby chick for the first time. Amidst AP testing this week, Sundar finds enjoyment in the baby chicks. "I was a little nervous to hold the chicken, to be honest, but I loved it so much," Sundar said. "It makes me wonder why I've never held one before."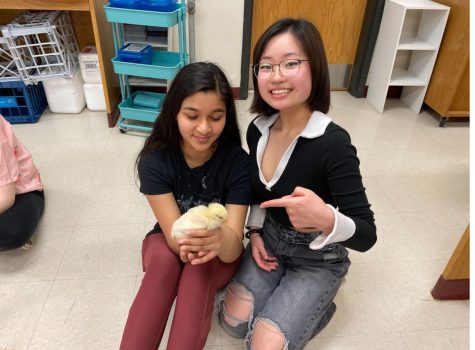 Sophomore Anika Shinde holds a baby chick while junior Emily Won smiles for the photo. Now that the chicks are larger, Shinde notes that holding them has gotten much harder. "I didn't want to hold the baby chick after I saw that Brian was pooped on, but they were still super cute," Won said.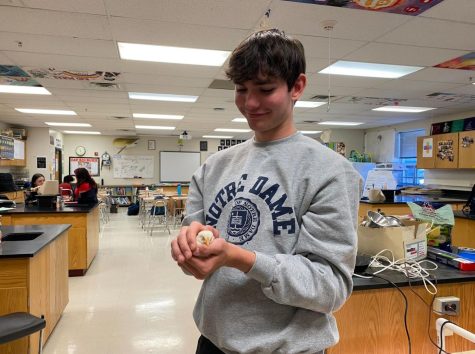 Smiling, senior Brian Edels holds a sleeping baby chick in class after he finishes his classwork. Despite the overwhelming excitement the AP Biology students feel, Edels could only think about his stomach. "This whole experience has made me really want a spicy chicken sandwich," Edels said.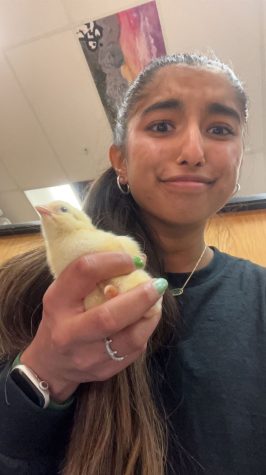 Smiling for a Snap, junior Saloni Saraswat holds a baby chick in her hand. Saraswat, a student in AP Biology, has held the chickens everyday. "Honestly, if they made a tux for baby chicks, I'd take him to prom," Saraswat said.
Your donation will support the student journalists at Barrington High School! Your contribution will allow us to produce our publication and cover our annual website hosting costs.