What are you wearing?
Students and Staff from Barrington High School talked about the accessories and the clothes they're currently wearing.
Johan Arif '25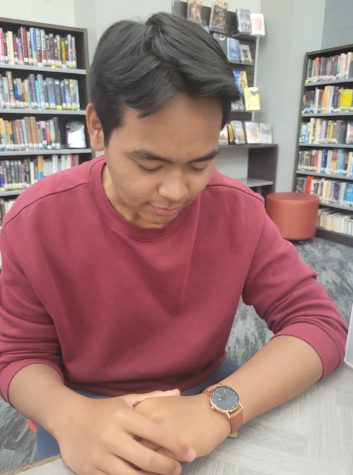 "This is a new watch that I bought in America, because I lost my watch at the airport in Korea when we were transiting on the way to JFK to do my exchange year here. I really like the United States. And personally, I don't want to leave," Arif said.
Gisselle Mosquera '24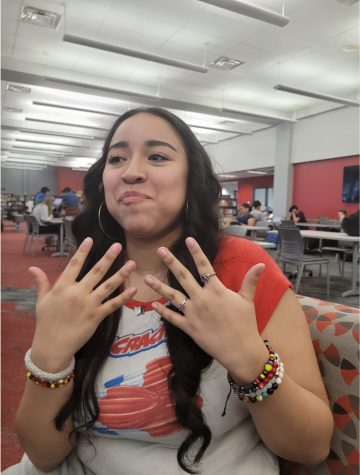 "I got most of my bracelets from Columbia, with the flag's colors. They are from my family and I've had them since I was little. The others are just ones that I found around my house. I got the ring with the rose from my sister for my birthday last year in Disney. That's Beauty and the Beast," Mosquera said.
Kendall Origer '23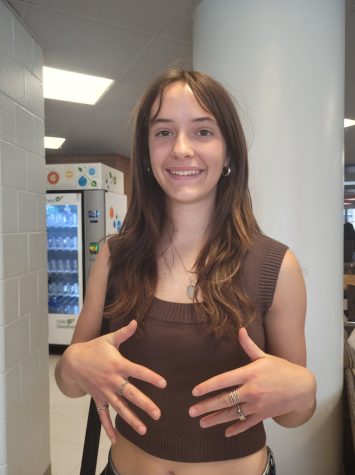 "Right now I'm wearing four rings and a heart necklace. This necklace was my mom's: she was just going through jewelry with me and then I saw this, so I decided to take it because she was gonna give it away. I have just different chains and I like to switch them out sometimes depending on what outfit I'm wearing. Two of my rings are my mom's and she also gifted me another one," Origer said.
Zarah Kazmi '25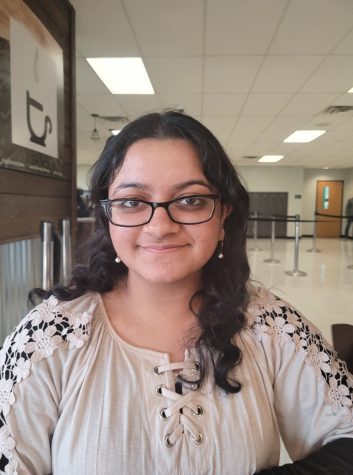 "About my glasses, I thought that they were pretty simple so they would go with anything. I don't really like colorful ones because I feel like they kind of clash with some outfits sometimes so I went with the black ones. I actually had the same frames for three years because I liked them so much. I buy the same frame every time," Kazmi said.
Jenna Kerr '23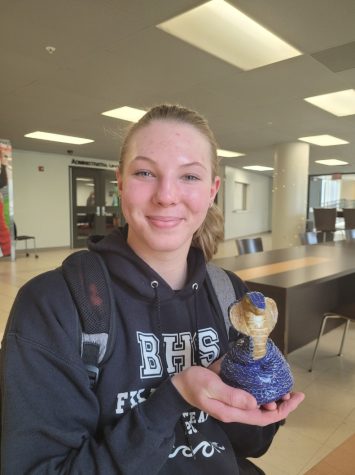 "I'm holding a ceramic that I made for our end of the semester project which was to make an animal purely out of coils. I had inspiration from another ceramic snake that I have at home so I thought it would be cool to try and recreate something similar, but by myself. Besides, I'm wearing a black hoodie from swimming for state my junior year. Also, I swam this year and I'm going to continue swimming for the University of Iowa when I go to college," Kerr said.
Eli Rodda '25 and Carsten Wegh '23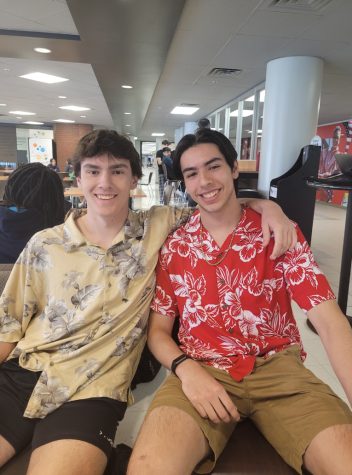 "We're both on the varsity volleyball team and we think that it's really fun to wear Hawaiian shirts every game day. And tonight is the conference championship."
Mrs Kaszuba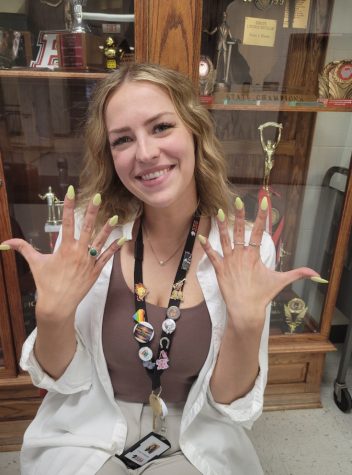 "I get my nails done all the time and I normally get designs but today I'm just doing this sort of green yellow color for spring. And then my rings are actually all from my mom's old silver collection. My mom also got me this little pearl necklace when she went to Spain. The trends are all collections from students to give me little pins. The one on the left top is from my favorite movie (Howl's Moving Castle). There's a lot of shows because I work in theater and from places I've traveled," Kazuba said.
Your donation will support the student journalists at Barrington High School! Your contribution will allow us to produce our publication and cover our annual website hosting costs.