Barrington Giving Day takes place Dec. 9 at Station Middle School. Here, local families in need can collect items such as winter gear, clothes, food, toys, books and sports equipment.
Some district families need assistance to get the items they require. Local non-profit organization Barrington Giving Day has been dedicated to helping these families through various events and fundraisers for over 80 years.
The community may not think or remember that there are many families in need, when in fact, there are over 880 families in the district living below the poverty line.
"Most people, they forget that there are others, possibly our neighbors, that might need help," Barrington Giving Day Executive Director Dori Hough said. For these families, BGD events, such as the winter event, spring event, prom event and back to school event are available as places they can go to get items they need.
"These events are truly a blessing! With times being rough all gifts received help us with our growing family!"
— Barrington Giving Day Recipient
Since Barrington Giving Day is a non-profit, the organization mainly relies on donations from the community, and BHS students often contribute. On Oct. 13 during the JV and varsity football games, the Bronco football coat drive will be taking place, where students donate old coats and make cash donations. The school will additionally have bins set up in the school where, from Nov. 1 to Dec. 3, donations of old winter gear will be accepted.
Volunteering is what makes this event work. Organizations from all around the community such as the Lions Club, Barrington Junior Women's Club, Rotary Club and the local churches send volunteers to help out.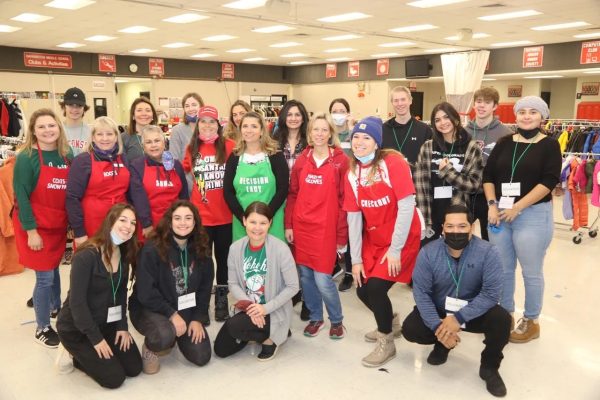 "It really takes a whole community," Hough said.
In 2022, there were 502 volunteers in the winter event.
Students are a major part of making BGD work, by volunteering or fundraising. With around 150 to 200 student volunteers, it's a large percentage of the event's total volunteers. If students want to volunteer, they can use the link here to register, then go to the Barrington 220 website and make sure to get credit under 'Volunteer Opportunities'. Additional information about the event can be found on the BGD website.
Students volunteering at Barrington Giving Day can expect work such as setting up coats, putting out books manning the areas and being families' personal shoppers and other jobs.
There is a BGD Club open to all students to join where members help to prepare for the event through fundraising, earning them volunteer hours. The club's next meeting is Oct. 11 in the CRC.
"It really takes a lot of hands to make the event happen. It wouldn't be able to be put on without the large numbers of volunteers that we have," Student Volunteer Program Coordinator Lisa Horcher said. "It's always kind of nice to remove yourself from your own situation and to do something that's of value for somebody else."