The Broncos rallied against Fremd to keep their undefeated season alive. Barrington (5-0) hosted their MSL West rival Vikings (1-4) during their homecoming Saturday. The highly anticipated rivalry ended in a 13-7 win for the Broncos.
Senior Dillon Fitzpatrick led all rushers with 219 rushing yards on a career high 35 carries. Broncos Wide Receiver senior Will Nazha led the Broncos with 6 receptions for 46 yards, as the offense had a hard time generating yards through the air. On the defensive side, seniors Ian Marderosian, and Justin Blasius each had a sack to help shut down Fremd's offense, and only allowed 7 points.
This season has been successful highlighted by the Broncos beating four other tough teams (Warren, Prospect, Glenbrook South, and New Trier), up to this rivalry game. Head Coach Joey Sanchez has also had a successful season, as he recently became the MSL's (Mid Suburban League) all-time leader in wins against Glenbrook South in week 3 of this season. The Broncos have come a long way since last season when they finished 5-4 (1 forfeit win due to the Maine South cheating scandal), 3rd in the MSL west, and missed the playoffs. They have much bigger goals for the rest of this season.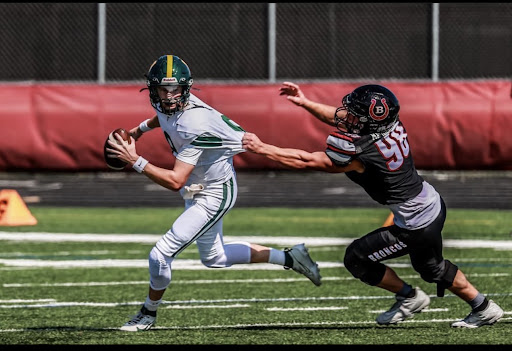 "The number one goal is to make the playoffs, and we are looking to secure win number 6 this weekend (vs. Schaumburg) to guarantee a week 10 (playoff) game. We are also looking to compete for a MSL Championship, as well as playing on Thanksgiving weekend. It's a week-by-week challenge," Sanchez said.
First year varsity player junior Armaan Ali loves playing with the team and has aspirations for the rest of the season.
"Everyone on the team has a purpose and a job, so no one is left out and everyone contributes to every win or loss we have. We only have a limited amount of time every day on the field, so we make sure we are using practice to be locked in and focused on what Coach Sanchez wants us to do to be more confident during games," Ali said.
The Broncos (5-0) look to defeat the Schaumburg Saxons,(2-3) on Friday September 29, to secure another crucial MSL West victory.