Champs! Girls' tennis wins conference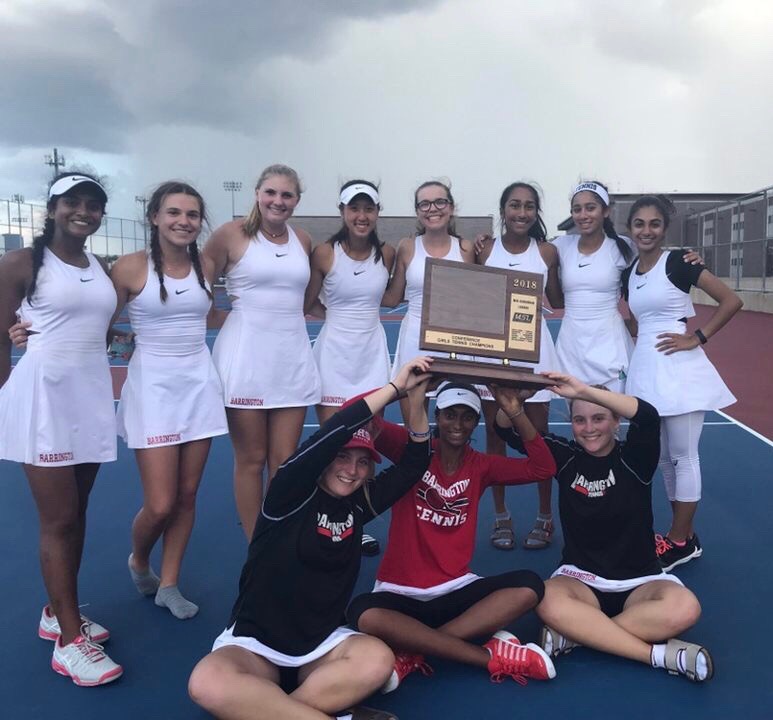 Delaney Nelson, Co-Editor-in-Chief
Published October 12, 2018
The varsity girls' tennis team tied with Fremd High School for first place at the conference tournament Tuesday. Matches were played at several high schools, including Schaumburg, Conant and Hoffman Estates. Through four doubles matches and three singles matches, the team ended the day two points behind Fremd.
Their success in the regular season, in which they were West Division champions, boosted their score by two points, putting them even with Fremd at the final score count. Although the schools tied, Barrington took home the trophy after winning a coin toss.
Even though they went into the tournament as first in the conference, not all players expected a Filly victory.
"I'm really proud of our team because no one expected us to win," senior and team captain Kathleen Tomasian said. "Fremd had stronger players and a lot of other coaches in our conference expected Barrington to be taken out. Towards the end of the day, we were feeling pretty down because we thought that Fremd had got it, but when coaches were counting points and they realized it was a tie, we were ecstatic, we were all so happy."
For each round won in the competition, a team receives nine points, followed by seven points for second place and six points for third. Tomasian says the most decisive point of the tournament was not just victories in the three doubles and four doubles match. The second place at one singles gave Barrington seven points, ahead of Fremd's two points from that level.
With state next week, senior and captain Caroline Tomasian reflected on the season.
"This season, going into it, I was nervous because we had lost a lot of seniors," she said. "There were a lot of spots open, and a lot of underclassmen came up. I was nervous because none of us knew each other very well at the beginning of the season and I didn't know if we'd get along, but we quickly bonded and always supported each other. The friendships that were made this season surprised me, but it was a good surprise, a welcomed warmth."