Theatre sets mouse trap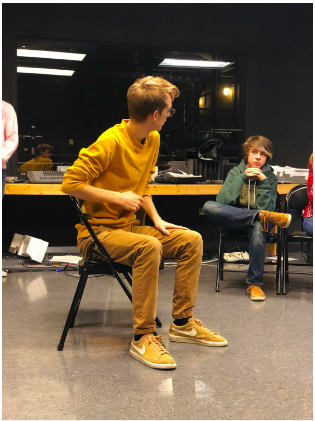 Miloni Mehta, Online News Editor
Published October 30, 2018
The annual fall experimental is a chance for students to try their hand at directing on their own.  This year, juniors Chase Shurtz and Kate Kibby are directing a murder mystery for the performance.
"The fall experimental is "Mouse Trap", it is a whodunnit murder mystery adapted from a book by Agatha Christie, and I believe it was adapted to a play format by Samuel French," said Paul Lazzari, the sole freshman in the show.
The play opens to a scene of a group of strangers stranded in a boarding house during a snowstorm, one of whom is a murderer. The strangers include a harshly critical older woman (Cali Larkin), a peculiar architect and chef (Ewan Parker-Eaton), a retired Army major (Chris Bittle), a nervous little man who claims his car got stuck in a snowbank (Paul Lazzari), a strange woman with a terrifying background (Jillian Yonan), the newly married couple who owns the house (Lauren Walker and Collin Fox) and a detective (Wyatt Bucy) who comes traveling by skis to determine who the murderer is.
The fall experimental differs from the plays and musicals not just because it is located in the black box rather than the auditorium, and because it is led by student directors, but also due to the experience the cast has in preparing for it.
"It's not like you're just working with the actors, they become your family. Like one of the best experiences I've had during the show was going to Goebbert's with everybody," sophomore Lauren Walker, one of the actors in the show, said. "Another thing that is really nice is that the directors are students as well. They are really understanding when it comes to rehearsal and memorizing lines because they've been in that place too."
"Experimental shows are just a lot more intimate, and I feel like with the cast you really get to like bond with them more just because you're seeing each other every day and you're like in a smaller space, and you really get to make that connection with the audience when you're performing, and I think that's really cool," senior Jillian Yonan said.
"The Mousetrap" will be performed on November 15, 16, and 17, in the black box theater.
"It's funny, dramatic, and has just enough suspense to keep you guessing. Who's the murderer? Maybe it's me. Maybe it's not. You'll only know if you come see it!" Yonan said.