After longtime band director Randy Karon's retirement in May, the jazz band is preparing for their concert on Oct. 24 with a new leader, Kevin Krivosik.
The class meets every day during school hours. The students are given a few minutes to get situated and to listen to announcements and then they continue on to rehearsal.
Although Krivosik is new to the district, he is enjoying the experience.
"This has actually been the best that I personally have felt as a teacher starting the school year, and I don't know if it's because I'm like a pretty veteran teacher right now, or it's that I've started new jobs before like this. So I kind of have learned from my past mistakes, but this has been a great start to the school year," Krivosik said.
Krivosik worked as Huntley High School's band director for five years and in District 300 for two years. The switch is not entirely foreign to Krivosik.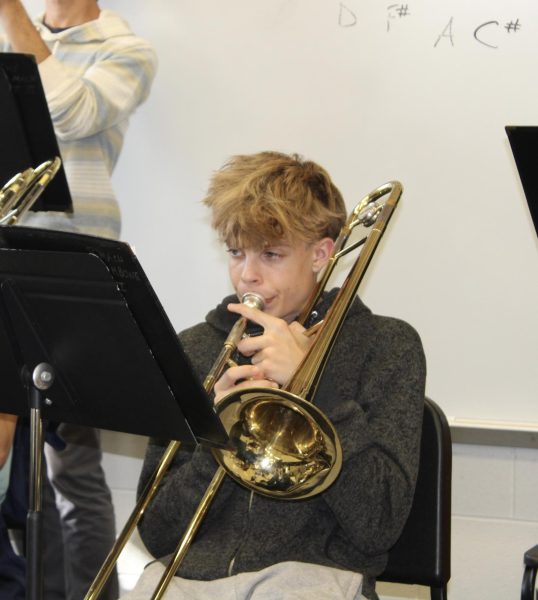 "A learning curve for me is just the way that the culture of the band program is. At every single school, the culture, how the kids behave, how the kids carry themselves, varies from school to school. So going from my old program, that's just something that I am learning how to manage and how I want to put my own twist on and also how I want to make sure that the kids are comfortable in their own culture," Krivosik said.
In regards to the upcoming jazz band show, Krivosik hopes for a show of support from the community.
"Come support, please. My goal is to showcase these kids as much as possible, and I want them to know that the band program is alive, the band program is powerful and that the band program is a great environment to be in. So come check out the jazz concert. After marching band season, we have this concert season, and we're gonna get rocking and rolling with that. So just please just come support, support, support!"
The performance will be held in the Black Box Theatre. The concert is free and open to the public.