Boards and baskets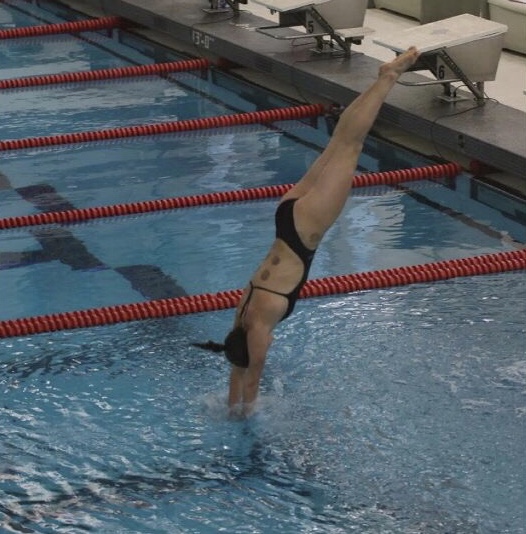 The crowd goes silent as Anna Mae King preps the diving board for her final dive. Beginning her step sequence, King approaches the edge of the board. She takes one last step, jumps up, bounces back on the board once, then twice, and throws herself into the dive she'd been practicing for months.
The crowd goes silent as King bounces the ball once, then twice. She gets into position, jumps up, and takes her shot.
Junior Anna Mae King juggles two sports on top of her schoolwork year-round, and has been doing so for a long time. She dives and plays basketball year-round on club teams. At the beginning of the school year, she dives on the school swim and dive team and plays club basketball. Most of the time her practices are back to back. She then goes straight into the school basketball season after the state swim and dive meet, and the roles reverse.
"I actually remember the moment I decided to start diving very well. I was at my lake house doing some dives off the pier and my mom was like, 'Oh like those are really good dives, you should try diving,' King said.
However, the memory of when she started basketball is not as clear.
"I was so little when I started basketball, I don't even remember. I remember that I was the only girl on my team," King said.
Last year, King qualified for the IHSA state meet as a sophomore, and she was the only diver that made it. At state, she narrowly missed making the semi-finals and finished in 19th. This year she has spent all season preparing for sectionals and getting back to the state meet to finish what she started last year.
"I've just been drilling my dives over and over again, to clean them up as much as I can, make them as consistent as I can," King said. "I've been working on every dive a lot, and I just have to be ready mentally too, because as I go on the competition will get stiffer and stiffer. I've got to be mentally on point because I've got to be able to take the pressure and deal with nerves and everything."
The challenges King faces in training and competition differ for each sport, and over the years she has had to discover ways to address those challenges.
"People cry all the time in diving which is like people probably wouldn't expect it since in most sports there is like not a lot of crying but like in diving it like physically hurts, so sometimes you like literally can't not cry," King said. "But sometimes you just kind of have to laugh at yourself and, I mean, you have to realize that the pain is gonna go away, and you just have to get up there and try it again. It's part of the sport."
In regards to basketball, King said, "And then like basketball you have to be like very courageous when you are on the court. You have to go for everything, you have to know when you are going to do things. You can't just be out there not knowing what you are doing cause you got to know what everyone else is supposed to be doing."
But King doesn't even pause for breath before jumping right into basketball season, where she plays on the varsity team.  However, since the basketball season and diving season overlap, King is forced to miss the first weeks of basketball practice.
"It's not as hard as many people think because they are so different, so it doesn't tire me out because I enjoy both the sports so much that it doesn't make me very tired, I enjoy going from one to the next," King said. "It's hard going into the basketball season not having as many of the plays and everything memorized because I haven't been at practice."
King placed first at sectionals, and automatically qualified for state. Her impressive score of 431.40 sets her up well for state. However, these results were not without sacrifices.
Lisa Christianson, the girls' diving coach, said, "She gave up some tournament play, as well as practices. As we got closer to state, there was less basketball, so that she was physically and mentally ready to take on her big meets. Anna Mae had to keep in mind that her goal of making state finals could be gone, if she got injured playing basketball. Those were sacrifices she was willing to make and I commend her for it."