Easiest AP classes available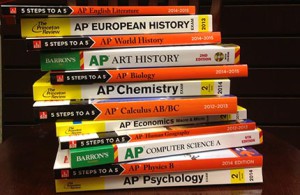 Hang on for a minute...we're trying to find some more stories you might like.
When students think of AP classes, they often picture the piles of review books, shudder at the never-ending stress, and try hard to overcome the endless struggle to keep their grade up. However, some AP classes might be a breath of fresh air and something nearly every motivated student can tackle. While they are not necessarily something a student can slack off on, they could be less of a challenge than some other more demanding AP courses.
According to Prep Scholar, AP Chinese has the highest passing rate and over 66% of those who take the exam receive a 5 on it. But these results can vary. For a student who has been in Chinese for all of high school, it will be pretty achievable, but for someone who has only taken one level of Chinese in school and decides to self study, this score might not become a reality. In addition, AP Spanish follows a similar trend, but the same disclaimer applies.
AP Studio Art is second to the Chinese exam's exceptionally high passing and 5 rate. The AP exam is essentially a portfolio of art that gets submitted. Although the advanced art classes do not require students to take a rigorous exam, AP art students work hard and all year to showcase their very best work. Art experience is not required, but recommended. So a student shouldn't just decide to take AP art lightheartedly. However, the students who enjoy art can take it easy when it comes to their AP art classes.
And then there are classes that are overall the "easiest" by reputation. For example, Psychology is notorious for its lack of extreme difficulty. So is Human Geography and Environmental Science. But this all depends on the teacher, the student's learning style and preference and their interest in the subject.
Overall, the "easiest" AP classes are generally the one's a majority of students get the highest scores or grades on, but everyone is unique and different. So the best way to figure out which AP classes you should take is to follow your interests and passions and always be willing to work hard to achieve success!