Personalities though fashion
If you have never done it, I recommend gathering the courage to ask someone about something they are wearing. Whether it would be a necklace, a graphic-T or shoes dolled up with writing. Stories or anecdotes can be told through the world of fashion.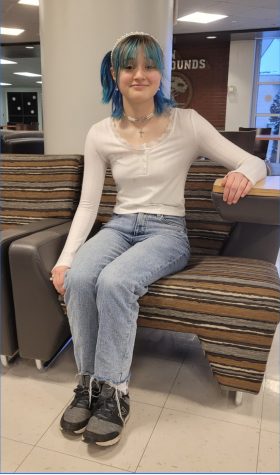 A lot of students need to stay after school for after school activities, clubs or simply to wait for a ride and freshman Adilyn Frey was one of them. Wearing blue jeans, a white lace top and pearl accessories, if she had to describe her style, it would be hyper feminine with a frequent use of white and pink. As for her unusual blue hair color, her explanation is quite simple.
"that was actually in October because I was going as Coraline for Halloween," Frey said. "I find different aesthetics through social media like Tiktok and then I just search that into different websites like Amazon and Pinterest to find pieces."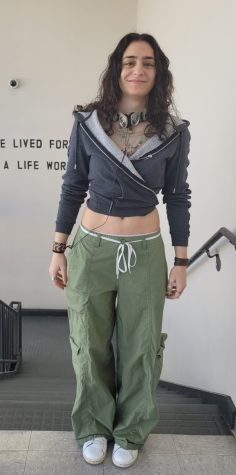 Senior Nairee Sarkisian doesn't know how to describe her style but it is for sure unique. She is wearing pants and a closed vest used as a top, all in a muted green color palette. The parachute pants, her favorite part of the outfit, are a gift from her mom. But what can't be missed when looking at Sarkisian is the jewelry pieces that she is wearing. More importantly, she made most of them herself. Pearl necklaces, leather bracelets, rings– they all come from her creative mind and were cautiously made by her.
"Me and my friends go to Michaels all the time and we have matching bracelets and necklaces," Sarkisian said.
As of now, she created seven necklaces in total. Not a single necklaces can be left out as it has a sentimental value for her, like a memory.
"What's inside the jar is some flowers from prom last year," Sarkisian said.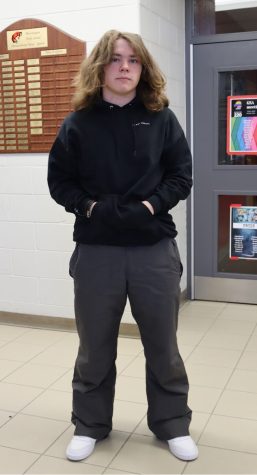 Sophomore Preston Hemmings was walking away from his English class wearing a black hoodie, white shoes and grey pants. More than a particular style, what Hemmings is looking for in his clothes is to be comfortable enough to be able to focus on something more important to him like tests.
"If you don't feel like the clothes are bothering you, then you're gonna feel good," Hemmings said.
This is the case of his favorite part of his outfit: his snowboard pants that in addition to using them while snowboarding are comfortable enough to be worn at school. The hoodie was embroidered by his girlfriend as a gift for Valentine's Day and the bracelet he is wearing was given by his mom as a way to show appreciation.
Your donation will support the student journalists at Barrington High School! Your contribution will allow us to produce our publication and cover our annual website hosting costs.