Ryan Paul, USA Handball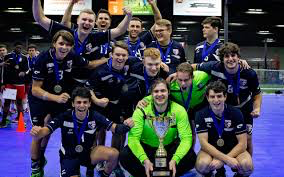 Senior Ryan Paul is beginning to make his mark, competing with the Team USA Handball team.
The senior Bronco is one of the few high-level Barrington athletes who participate in the National Handball team. Seniors Matt Reedy and Ricky Kanak are also members.
"Handball is an interesting sport," Paul said. "Not many people know about it but it's pretty fast-paced and fun to watch."
Handball could be comparable to soccer or lacrosse, but as the name hints, you use your hands to pass the ball.
Paul, who has been a longtime member of the youth national Handball team, competes with the national Handball team throughout the whole year and competes in Sweden once a year.
"It's an amazing opportunity to have at this age," Paul said. "It comes from a lot of hard work and I think a little bit of natural athletic ability."
Paul used to participate in Basketball and Football at a young age, but found Handball as his true calling and decided to stick with that.
"I stopped playing those sports once I made the Handball team," Paul said. "It's just a great sport that pulls you in from day one."
Pauls's decision has proven effective, as he has been chosen as a member of the USA Handball world team in each year since his 7th-grade year.
Besides his high-level results and accomplishments, Paul said he's just happy to be playing and contributing to his team the best he can.
"It's just awesome," Paul said. "Being able to compete with people who you consider your close friends is a feeling that is incomparable."
In a sport where viewership is low, and college scholarships are few and far between, Paul maintains that "It's never really been about all that, I just love the sport more than anything really."