BHS teacher or PRO writer?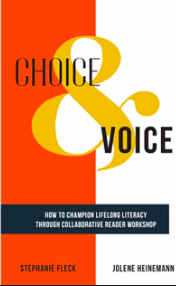 English teacher Stephanie Fleck co-wrote a pedagogical book, Choice and Voice, that was published in August. The book focuses on collaborative reader workshops where students are given the choice of what they read, and a voice to talk about it.
According to Fleck, the traditional English curriculum doesn't always let students choose what they want to read or drive how they talk about it. It's more about assigning things and expecting them to do it that way. However, reader workshops help students mirror how adults talk about books naturally.
"To do that experience of what real life is like talking about books; choosing what you want to read and then talking to other people about it, reading things that they're reading 'cause they suggest it to you. All those things are what we're trying to bring to classrooms instead of the traditional way of taking reading in an English class," Fleck said.
Fleck encourages teachers to use the reader workshop structures into their teaching. The publisher actually approached her and her co-worker about writing after they did a presentation on reader workshops, which they used as a sort of framework for the book.
Fleck explains part of the process in creating Choice & Voice, "The people who brought us in were an editor and a requisitioned person. Both of them quit the day our early manuscript was done. We had spent hours on it, I think it was like a 24 hour almost marathon that we had spent on putting it together. The day it was due to the publisher, we got a notice that our editor 'was no longer with us'. It was all these obstacles that you just don't think that you'd run into."
Another obstacle Fleck and her co-writer had was having hands off editors. They didn't have a lot of guidance, which made time management harder for them. It's difficult to find time to write, the process of creating a book is hectic.
Fleck had to tackle time management,"I had a baby, Jolene (Fleck's co-writer) went to a different school. You kind of just drive yourself crazy and find time when you can, and scramble. It's very similar to how students write a paper. They are thinking about it, it's in their head for many, many weeks, and then all of sudden it's due and they do a bunch of stuff right before the end."
She figured out how to manage time as she went, finishing a lot of work at the very end and stressing a lot of the time. It took about three years to complete the book. Fleck went through the writing process with her co-writer, Jolene Heinemann. They used to teach at Barrington together, collaborating a lot when they taught at the same school.
Fleck taught Junior English and so did Heinemann,"We needed an end of the year unit in the last three weeks, and we couldn't really read a group book in three weeks' time. So I kind of said 'What if we just let them talk about whatever they're reading?' They were like 'Alright.' So that's kind of where it came up."
That's where the idea of collaborative reader workshops was essentially created. Many students find reading stressful, or don't have time to read. Fleck has always always loved reading and believes that if you don't have some structure in your life, you should make that time to read. She also recognizes that even if you love reading, there are times in your life where you don't read as much.
One of Mrs. Fleck's former students said,"I loved the reader workshops, they gave me time to relax and talk about something I'm interested in. I learned about different books that people were interested in. I also learned how reading is supposed to be relaxing, not stressful."
Your donation will support the student journalists of Barrington High School - IL! Your contribution will allow us to produce our publication and cover our annual website hosting costs!