Orchesis takes the virtual stage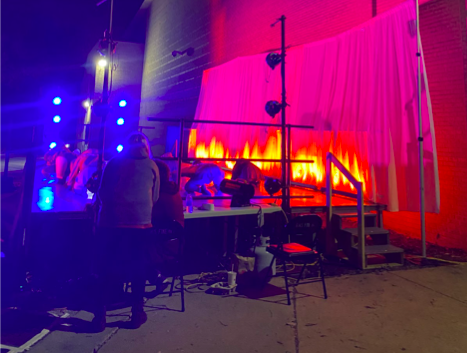 Barrington High School features many activities that showcase a variety of student talent. Unfortunately, the Coronavirus is back in full force, creating continuous challenges that would have been unimaginable a year ago for school activities.
One of these activities is Orchesis, the dance class and after school program that puts together an incredible show each fall and spring. Orchesis shows bring crowds of excited parents, friends, teachers, and classmates together. But in times like these, crowds aren't an option. Yet with a mix of creativity and hard work; the show still goes on, just a little differently.
Orchesis students met to record their show in person. To stay safe, the performance was done outside with masks required. Multiple in-person rehearsals have been taking place in this environment.
"We had some in-person outside rehearsals that were all socially distanced, following the guidelines given by the CDC. Those rehearsals were also very helpful in finalizing choreography for our show," Evelina Chiambas, an Orchesis student, said.
Chiambas along with all the Orchesis girls have been constantly adapting to new methods of practice for their show. All the dedication has paid off.
"The virtual orchesis performance will be released November 13th! It is planned to be released through a drive-in movie theater experience outside of the front lot at BHS," Chiambas said.
Drive-in movies have been a big hit lately. They are Covid safe and always a fun plan. To work with the times, Orchesis is showcasing their performance in this resurfaced format. Lots of preparation has gone into this performance, especially virtually. Online dance classes have been a new experience for Orchesis students.
"Online dance classes were pretty easy to get used to, actually. We normally have some sort of workout planned during our synchronous days, like pilates or yoga," orchesis student, Sasha Uvarova, said. "Dance class is different now mainly because of our lack of group work. We used to have choreography projects in groups semi-regularly before covid, but that isn't really an option anymore."
The shift to online classes has been a popular conversation in the Barrington District. The future for BHS is uncertain, yet students stay positive and hopeful that safe change will come soon.
Uvarova shares the plans for Orchesis's spring show.
"Orchesis has plans to do a similar show in the spring [similar to] the one we just did in the fall, so we have that to look out for and get excited about," Uvarova said.
Orchesis students are an admirable example of how we can continue to work hard in these unmotivating times. Their performance will not only be an enjoyable event, but an inspiring experience for everyone doing their best to be safe, have fun and bring some joy into a difficult chapter.