Volleyball's Maestro: a Q&A with setter Madeleine Yoon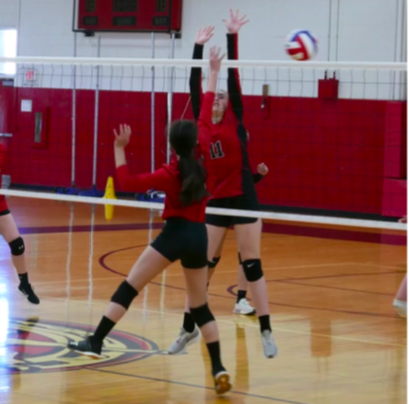 Freshman Madeleine Yoon's passion for volleyball is not one to be overlooked. Through an interest that emerged in her early teens, she quickly developed a liking for this social and competitive sport. From a middle-school volleyball team to the Junior Olympics at an esteemed volleyball club, her determination and enthusiasm are not one to be modest about. As her dedication to volleyball grew, the jump from middle school volleyball to playing with the varsity and upperclassman players in high school has been a memorable and valuable experience, despite a pandemic.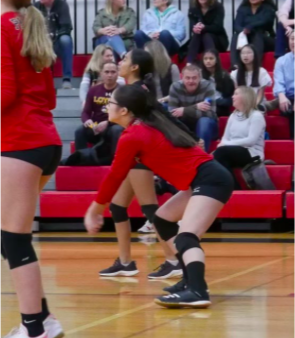 How long have you been playing volleyball? When did you start?
I think the first time I started was in seventh grade. Before that, I've been playing tennis, but I wanted to try out a team sport for the first time, so I signed up for club season and I did a regional season at Top Flight [volleyball club]. I also played on the middle school team at Prairie, and I've been playing ever since.
How did you get into volleyball? How did you know it was one of your passions?
To be honest, I really didn't have a sport that I was super interested in. Before that, I was playing tennis for a long time, but I think I didn't like being by myself in a sport. I wanted to be in a more social environment, athletically speaking. So I was just thinking about a lot of team sports that I could do. I knew a lot of my friends played volleyball; I guess they are the ones that really got me into [volleyball].
Would you say volleyball helped you mature and grow in any way? Has it taught you any life-lessons outside of volleyball?
It definitely helped me gain more leadership qualities because it's a really important ability to have on a volleyball team. You have to be able to communicate with your teammates and encourage them when things get difficult. I think it really made [me a] better person socially.
What are your proudest achievements in volleyball?
My proudest achievement is probably making the JO Team at Sky High [volleyball club]. JO stands for the 'Junior Olympics', so I was pretty proud of myself when I did that, and just sticking with the sport, going to all the practices, and just giving it my all.
Have you played volleyball at all during the year?
Yes; I have actually done quite a lot of volleyball- I actually had a volleyball practice yesterday. The school season got pushed back to February, but they had a summer camp that I was able to go to at the beginning of the school year, and that was really fun because I got to play with the varsity kids and other classmates, so it was fun to see what variety level volleyball was like. My club season at Sky High didn't get canceled, so I was able to participate in it. Nobody's gotten COVID yet, so I think it's gonna go on for a while! I think, with my club season, we're not having any tournaments since we would have to interact with other clubs and people from all over the state, so we stopped doing those so it's very locally-based now to stop the spread.
What does a typical day of practice look like?
In the beginning, we do the typical dynamics and warmups- like running and the usual stuff that every sport does. Every day, we do positional training. So the setters train with the setters, the hitters train with the hitters, and the liberos train with the liberos. Basically, it's more specific-based training so you get more intense practice in a specific area of volleyball. We also have days where we sometimes switch around the position- the hitters would do some passing drills, the setters will do setting drills too. It intermixes a lot.
How has this year of volleyball differed from years in the past?
Like I said before, we don't have any tournaments- although that might change eventually as COVID gets better maybe. Also, we have to wear masks when we practice, so it's kind of difficult to breathe. My school season was moved, and we don't even know if we will even get a school season this year. But hopefully, we will! Everything else pretty much stayed the same, so there wasn't too much change.
How do you feel about our school's regulations with sports and extracurriculars? Too soon for clubs and activities?
I think they've been doing a pretty good job because I know that they've been pushing back a lot of the seasons. I know basketball was supposed to be going on, but that got pushed back into February, volleyball also got pushed back. I know they've been doing a good job following the COVID-19 guidelines. During the [summer] camp, everyone was wearing masks and practicing social distancing. Yeah, I think they've been doing a pretty good job so far! I do wish that we could go back to school and everything returns back to normal, hopefully.