Social distancing robotics season brings new challenges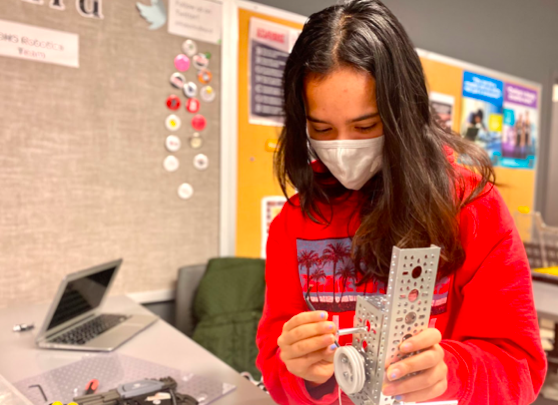 As the pandemic continues to rage on, so does the undwindling passion of robotics students' this year. With new safety guidelines, masks, repeated hand sanitizer breaks, and social distancing, this new season of robotics has drastically shifted gears.
The path leading up to this season of robotics was an uncertain one. Thomas Bredemeier and Kristen Lewis, the current sponsors of robotics, originally had planned to cancel the season for the teams' safety.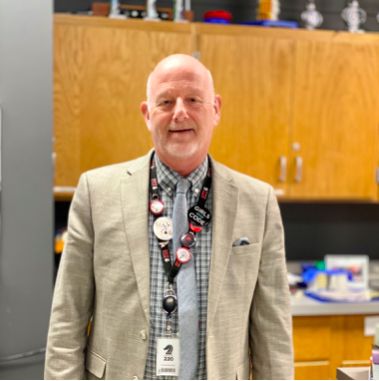 "We thought we weren't going to do robotics this year, but then because of the [students'] enthusiasm that I was like, 'Okay, let's go make this happen.'" Bredemeier said.
No new members joined this year, cutting the number of students from last year by almost half. As a result, last year's four teams were reduced to just two teams- team 5199 "Duct Tape and a Prayer" and 6200 "Syntax Error".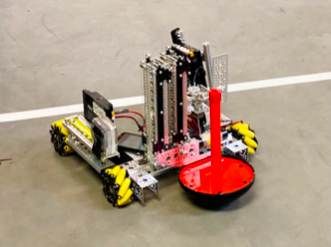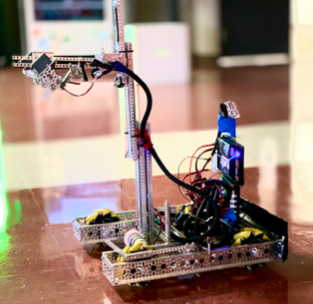 This year, students have also struggled with adapting to the unexpected challenges this year has given. Previously, showing up to team meetings has been a matter of simply heading over to room E269 directly after school. The new season, however, has relied on available transportation, stable internet connection, and more time from everyone. Meeting times run from after school to 5:30, and a maximum of only four students from each team can meet in-person at a time.
"Safety has always been our top priority. The teams know that, and they're very cautious about that," Bredemeier said. "We've had to operate in a very controlled environment."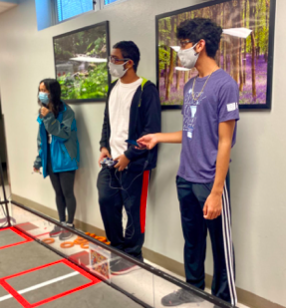 With most communication and team meetings turning virtual, the biggest challenge was active participation. Lewis believes that the new shift in communication to fit the virtual requirements has brought up real-world challenges for students this year.
"There are some things that we are missing, we're missing that companionship with everybody and the sharing of ideas in person, but the students are learning different communication skills. Out in the real world, you have all kinds of chaos going on. It's a dynamic world you're working in, and these skills will be able to transfer to the real world," Lewis said.
In the weeks leading up to the first competition, the students and teachers worked diligently to set up space where social distancing and safety were the top priority while also allowing students to carry out their matches effectively. Students had to design their robot as an independent machine as opposed to a part of an alliance. The teachers learned how to referee, score and run matches by themselves, while simultaneously recording matches and sending them to the robotics umbrella organization, FIRST (For Inspiration and Recognition of Science and Technology).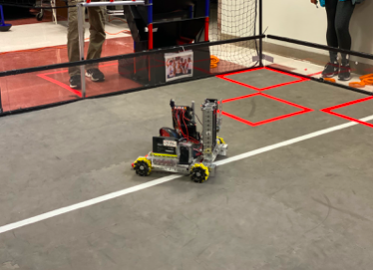 The teachers and administrators turned to the activity center. It was large and comfortably held the field for this season, yet maintained a decent size to not promote overcrowding.
The competition had a limit of only four people from each team running their matches, where in years prior the entire team- along with all other teams in the subdivision- met in one school to run matches together, four teams at a time split into two alliances per match.
"It didn't even feel like a competition sometimes, it was empty and we all were super spread out. It's not like previous years where we could huddle around each other," robotics student Sophia Nguyen (BHS 23) said.
Another big constraint placed on the teams was the inability to fix their robots and programs between matches. Each team had a total of six matches that were held in alternating ten-minute intervals, which hence hindered the amount of work or progress a team could make.
"Last year, when you're working with an alliance partner, you can go, 'okay? I'm good at this. So I'll focus on this,' and 'Oh, my robot is good at this, I'm going to focus on that.' And together, they can focus on their strengths. Now it's just [one] team that has to score all the points, and you can't rely on anybody else to help you score," Lewis said.
The struggle with time management, communication, and self-reliance compiled together and weighed down on the students during this first competition. Regardless, however, everyone agrees that this is a learning experience.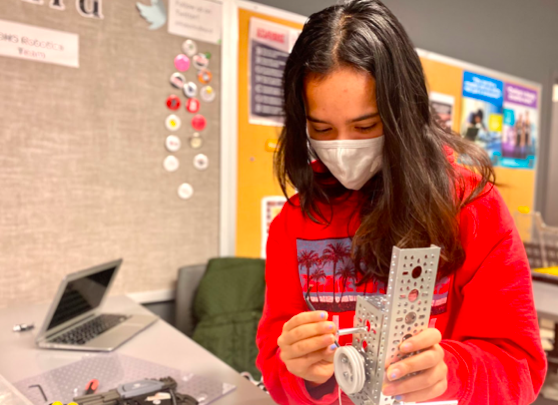 "I think it's the best we can do. Whenever we've had an all-team meeting, people enjoy being in there in a breakout room with their other teammates, speaking and collaborating. It helps build enthusiasm and passion for it. It's not optimal, but then again, our situation isn't optimal," Bredemeier said.
Nguyen and other students feel similarly. To them, the new virtual layout is less than comfortable, but with the changes comes a learning period for growth.
"We've been getting used to this. I think that, in general, a big principle that revolves around robotics is the ability to adapt and learn from your mistakes. So yes, it's an obstacle for us, but I think we're very well suited to rise above that," Nguyen said.