Hasbro's Clue: BTS at BHS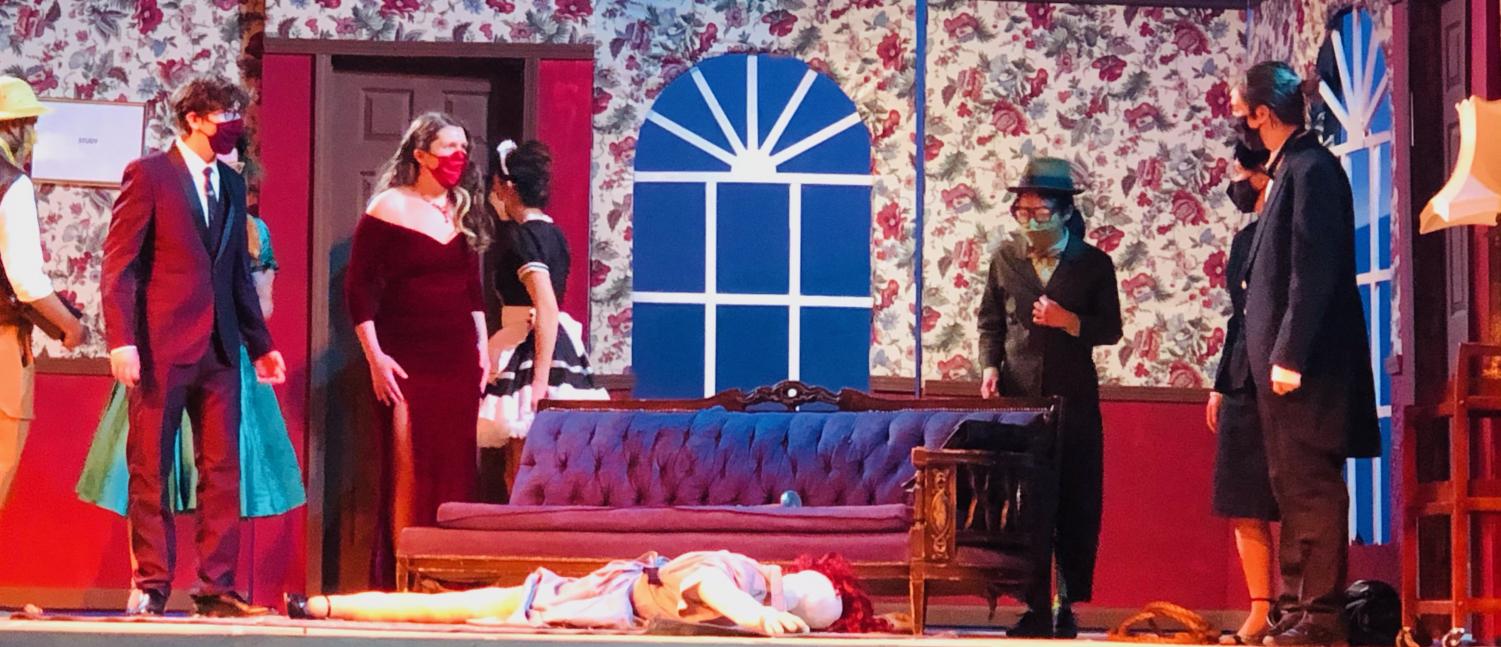 Remarkable performances, passionate cast members and dedicated crewmates- the yearly play. Inspired by the 1985 Paramount production, based on the classic Hasbro board game Clue, "Clue on Stage: High School Edition" is the student-run play and the highlight of the winter season. Students have been rehearsing and planning since November for this show. With Zoom rehearsals and awkward settings due to COVID guidelines, the production was far from the conventional norms. But despite the social distancing and the social restrictions, Clue has remained memorable, experimental and original. Performers and crew members are more than ready to perform a showstopping performance for all family, friends, and theatre fanatics.
No one would have expected a play during a pandemic. Yet students in the production have been preparing for the show with the same enthusiasm and passion. However, not even the theatrical fervor can make up for the unusual situation. 
"In crew we usually work close together, but now we've just been working in groups of two. I think the biggest thing is the mask. When we're using a saw, we need to wear a mask, so the glasses get foggy," junior Gemma James said. 
As a part of the set crew, James had built her experience in creating set designs since her freshman year. Albeit her expertise, the current restrictions have pushed students to find better alternatives. 
"We had to make the best out of our current situation with COVID-19 and not being able to have audiences and stuff," sophomore Colin FitzSimmons said. "Obviously, we would like to be in front of people instead of having to record with it."
Since middle school, FitzSimmons has been involved in theatre. Having been cast into Clue, he had his fair share of Zoom and in-person rehearsals with face masks. As FitzSimmons said, the loss of facial expressions has definitely dulled the vibrance of normal performance. A lively show, no matter the fervor, would be lacking without a responsive audience. But even through Zoom rehearsals, students in the production have been working passionately, eager to amaze an audience just as they have before. 
"I think we've learned a lot on what it means to take on a full-scale production and to create it in a way that is safe in our current world and environment, but to still take on the integrity of the show and to push the boundaries on what kind of art we can create in this kind of world," director Paula Nowak said. 
Crew members and actors alike, especially student directors seniors Jalen Fertig and Jessica Shimp, have helped facilitate the production alongside Paula Nowak. Clue proved to overcome the current restrictions and produce a truly dedicated production.
"Part of the challenge is: how do you take these characters that people know and make it their own? I'll sit in rehearsal and someone will just do something in their character that is so smart and so clever and interpret things in a way that is so beyond what I originally imagined," Nowak said.