Barrington to host annual dance performance
To continue a running tradition, Barrington is hosting the annual Giordano Choreography Project on Jan 21, 2023, at 7 p.m. The performance is in collaboration with ten other high schools in the Chicago area, each performing a unique piece.
"It's an opportunity for our Orchesis dancers to learn choreography from a professional dancer in Chicago and other high school orchesis groups or dance companies get to participate in this as well," sponsor Katelyn Reyes said.
There will be 13 dances showcased in diverse styles by choreographers from the Giordano Dance Company, alongside a performance from the professional dancers themselves.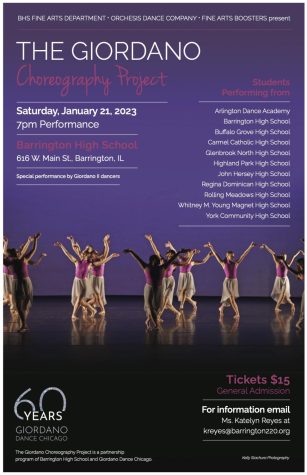 "Each school gets one choreographer. Usually, this happens between November and December, so we rehearse till 5 o'clock. Each school gets up to 10 hours of choreography [time with professional] to choreograph a two to three-minute dance," Reyes said.
Barrington's Orchesis group split up into two performances with separate choreographers, each unique.
"You can expect professional choreography and high school dancers, variety in styles of dance; some contemporary, more modern, some that are instrumental," Reyes said.
The dance groups have been preparing for the performance for several weeks. They train with professional dancers from the Giordano Dance Company for a few hours each week, learning the different choreographies.
"It's kind of a nice way to just connect with other performing groups that do the same thing as us. It's not a competition but it's a good way to connect with other high schoolers," Reyes said.
Tickets are available online or at the door for $15 with general admission seating.
Your donation will support the student journalists at Barrington High School! Your contribution will allow us to produce our publication and cover our annual website hosting costs.