Review: Wednesday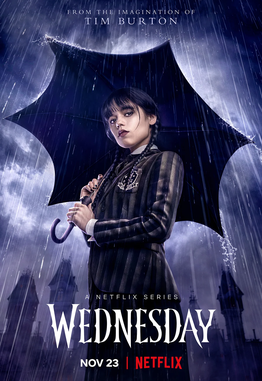 Adaptations are tricky. Whenever a remake of a TV show, movie, or book is announced, fans of the source material flock to social media to make their strong opinions known. The stakes are high, the expectations higher and inevitably some fans are disappointed.
However, Netflix's new Wednesday TV series has been met with rave reviews. According to Netflix, in its first week, Wednesday had 341.23 million hours viewed, obtaining the record for most hours watched in one week for a Netflix English-language TV series. The previous holder of this title was Stranger Things 4.
For those who haven't seen Wednesday yet, it follows the Addams family's oldest daughter Wednesday, played by Jenna Ortega. After being expelled from her latest school, Wednesday is forced by her parents to attend their alma mater, Nevermore Academy, a school for outcasts. However, there is a mystery afoot at Nevermore and in the surrounding town of Jericho, tracing back to Wednesday's parent's own years at Nevermore. With help from her bubbly werewolf roommate and the infamous Thing, from the original Addams family series, Wednesday sets out upon solving the mystery and saving the school.
Wednesday is a teen-coming of age, mystery and comedy series. The adaptation was done very well, incorporating elements of the original show along with leaving room for a new story and interpretation. Netflix struck a perfect balance between new and old, hitting the sweet spot of adaptations/remakes, clearly shown through the costuming of the characters, specifically Wednesday Addams. She kept her classic black and white color scheme, mirroring that of the original, while still following modern trends, such as funky sweater vests and Doc Martens.
Jenna Ortega was amazing in the titular role of Wednesday Addams. She has been a rising star in Hollywood. In the past three years she has had major roles in You, The Fallout, X, and Scream, winning the MTV Movie and TV Award for Most Frightened Performance for her role in Scream. She fully committed to her role of Wednesday Addams, learning the cello, fencing and German for the role. She and director Tim Burton even made the decision for Wednesday not to blink, so she did all of her takes without blinking. Most notably, she choreographed her own dance for a scene in the show that sparked a new viral TikTok trend.
With the response Wednesday got, it is likely another season will be coming. It hasn't officially been announced, but Wednesday's showrunner Al Gough told TV Line that they had planned it for four seasons. Fingers crossed, this isn't the last we see of Nevermore and Wednesday Addams.
Your donation will support the student journalists at Barrington High School! Your contribution will allow us to produce our publication and cover our annual website hosting costs.