AP biology classes hatch and raise chicks
AP Biology teachers Laura Turngren and Julie Baylor are raising and hatching chickens with the biology students. Turngren, along with the help of science teacher Vanessa Fennig, is hosting 36 eggs in her classroom.
Turngren credits the Barrington 220 Education Foundation for funding and support. Other teachers in the science department and administration have also supported Turngren.
"Everyone's on board with trying to bring new and different experiences into the classroom in every capacity that we can. Teachers and administrators are really supportive of that– we kind of share the adventure. I have teachers from chemistry and physics that have come up to visit and see what's going on," Turngren said.
Turngren and Baylor are raising the chickens with the biology students as a way to motivate students with a novel experience.
"As we review for the AP test, we reach a point in that review process where it's very hard to continue being motivated to revisit old material and have that drive to keep going. I thought that this could be a way to kind of keep that energy level high, and have it be a kind of unpredictable and new experience every day when you come to class," Turngren said.
On April 25, three chickens hatched, drawing excitement amongst the students.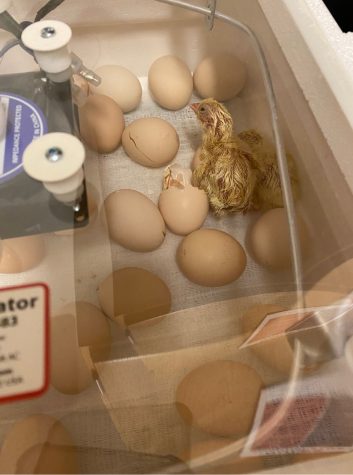 "This was the stress relief that I needed leading up to AP testing. This made my day and my entire week," sophomore Anika Shinde said.
As more chicks hatch and grow, Turngren and Fennig are finalizing the chicken coop set-up to transfer the chicks. Turngren and Baylor plan to keep the chickens for around two weeks, until an estimated May 10.
"They're super cute, and on the social-emotional piece, it's a really stressful and overwhelming time for kids. Sometimes just having something new and different and cute around helps," Turngren said.
Your donation will support the student journalists at Barrington High School! Your contribution will allow us to produce our publication and cover our annual website hosting costs.