The Mosh Pit: Chicago's hidden gem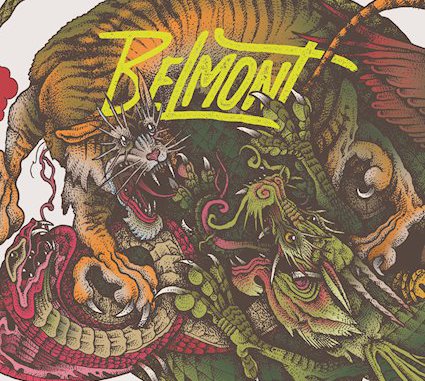 Hang on for a minute...we're trying to find some more stories you might like.
Chicago-based quintet Belmont have been delivering sludgy waves of Pop-Punk mayhem for around four years, and it seems with each new EP, Belmont continues to expand upon their core sound and develop into new territory and experimentation. With their eponymous debut album, Belmont maintains this trend in perfect fashion. The album is bursting with intricate guitar work and complex song-structures, soaring with melody at times and rumbling with skull-shaking breakdowns at others.
The record opens up with several strong and hard-hitting tracks. Tunes such as Recluse demonstrate Belmont's new poppy but an equally heavy approach to music, combining roaring guitars with sparkly lead melodies. It is dense with Belmont's signature intricacy and complexity, but vocalist Taz Johnson's melodic delivery helps make it easy-listening.
Another track that really shines, and one of my personal favorites, is the moody Pushing Daisies. This tune truly shows the breadth of Belmont's skills through a continually changing atmosphere. The song opens up with murky, melancholy chords and soon explodes into vicious life with thick, heavy guitar riffs. Brian Lada's distinctly jazzy drumming swirls amidst the intricate guitar work and gives the song a lively bounce. Towards the end of the song, the melody devolves into a thudding breakdown, once again leaving the listener with another dramatic sonic change.
The album even has something for the trap lovers with Interlude, featuring the vocals of Soundcloud rapper Shinigami. While I appreciate this bold step from Belmont, putting a wholly different genre of music in the middle of the album, it comes off a bit awkward and melodramatic. The interlude is interesting though and gives a breath to the listener amidst the back-to-back slammers.
Another track that helps make the album is the thunderous Convalescence. Any long-time Belmont fans were ecstatic to see them bringing back a track from their debut EP for a total makeover. And boy was it a great decision. The hectic urgency and the labyrinthine instrumentation make for a song that feels important, even desperate. The chorus and elaborate guitar work are heart wrenching, yet fiery with ferocious intensity. The song is drenched with melody, the final moments some of the most crushingly heavy of the album.
In total, Belmont's debut album delivered just as promised. It has a little bit of something for everybody; whether you desire the pummeling heaviness of traditional metalcore or sugary-sweet vocals and melodies, you'll find both perfectly blended into a lean and digestible package. Belmont has proved themselves as one of the more unique and boundary-pushing punk acts at the moment. Having the chance to see these guys live in concert and meet several of the members was a great experience for me, and I hope they begin to make it as big outside of the city as they are here.
I would highly recommend a listen to the album, and purchasing a ticket the next time Belmont come through their hometown.