Activities Fair to be held during lunch hours throughout week
The annual Activities Fair is being held Wednesday, September 7 to Friday, September 9 during lunch hours in the cafeteria hallway. The fair advertises various clubs throughout the school. Wellness department staff Alexandra Bauer and Amy Winkelman are hosting the fair and coordinating details.
"The Activities Fair has been [going on] a really, really long time. It used to rotate between a 'Health and Wellness Fair' and an 'Activities Fair'. We have been focusing on clubs and activities a bit this year to just get kids involved [because] we've had a lot of life changing things that have happened over the last couple of years. So we're just kind of trying to [show] kids what's out there and what they can get involved in," Bauer said.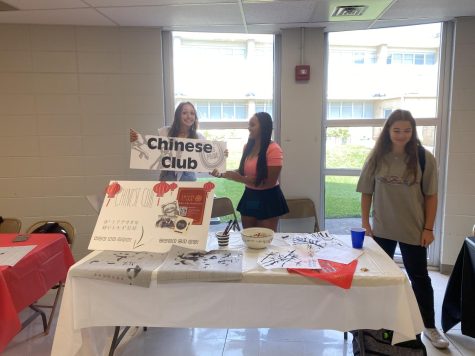 Many students and clubs set up a booth during one of the three days to advertise their own club to their own peers as well.
"I want to show [Chinese club] to more people because it's very limited in our membership to actually people who just take Chinese. People taking other foreign languages like Spanish or French just don't know about the club at all, but we do a lot more than just language in the club. It's an activity that doesn't require any prior knowledge. It's for everybody," Chinese club president and senior Jules Roach said.
The purpose of the Activities Fair is to promote student involvement in extracurricular activities and events.
"So many students don't even know what clubs and activities we offer. We have about 75 different clubs and activities. So if a student has an interest, there's probably a club for them. The [Activities Fair] is just a really good way for students to be able to go to booths, look around, see what we have to offer and get involved," Bauer said.
Your donation will support the student journalists of Barrington High School - IL! Your contribution will allow us to produce our publication and cover our annual website hosting costs!