Barrington band rocking into London
The band embarked on a journey to London to participate in the London New Year's Day parade, celebrating the new year 6 hours ahead. Led by director Randy Karon, about 40 band and color guard members traveled for the unique opportunity.
"I am most excited to perform at the London New Year's Day Parade because londoners will flock the street and it'll just be cheering upon cheering, plus I get to proudly hold the BHS banner leading the band down the path with my fellow drum major Alicia Miller," senior Rohan Munagekar said.
For seniors in band, like Munagekar, the trip was their first and last high school opportunity to travel abroad after COVID-19 took away the opportunity.
"I decided to go on this trip not only because of all the fun things we're going to do in London and as a drum major, but also for the once in a lifetime opportunity to perform with peers in a brand new environment and to have our musical talent appreciated," Munagekar said.
The band left Chicago at 5 p.m. They arrived at London Heathrow airport on Thursday, December 29 at 6:45 a.m. after a long journey together.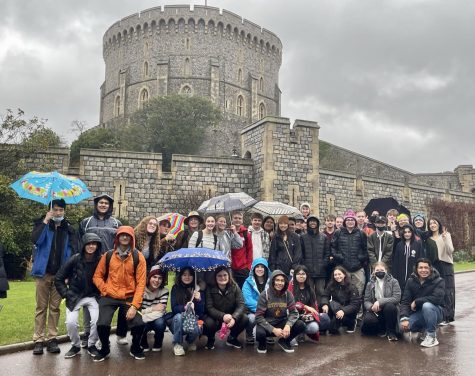 "The process of the trip is getting everyone together for the flight to check suitcases and weigh them. After everyone's luggage is situated, our very first events will be going on tours around London. Then most importantly go outside and march in what we are going to be marching in the London day parade," freshman Katherine Grassle said.
To add on to this experience, they visited various sites in London, including a London tour, the parade route, with a New Year's Eve party and many more tours around London.
"Some events that we are going to are visiting the London castle and going to different famous museums in London. I am most excited for the London parade that our school band is participating in," Grassle said.
Your donation will support the student journalists of Barrington High School - IL! Your contribution will allow us to produce our publication and cover our annual website hosting costs!