ForReal RoundUp
Eighth hour is a flexible and diverse hour, for students and staff alike. Whether it be learning ballet scenes or figuring out what color to dye your hair, students and staff partake in unique activities during the last hour of the school day. Read on to see what students and staff are doing during eighth hour — for real.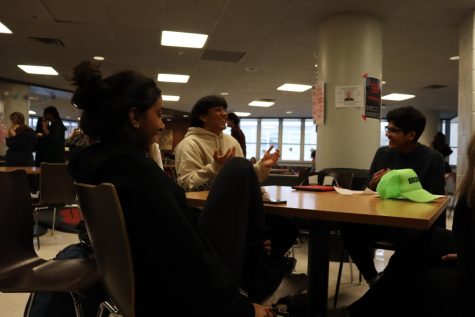 Junior Synomi Gardi laughs with friends, juniors Aayush Gade and Paari Dhanasekaran, in the commons during eighth hour. "I'm sitting in the commons, debating if I should dye my hair. We're using filters to see what hair color we'd look good as. The consensus is that I should dye it red," Gardi said. Photo by Alexis Mathai, '23.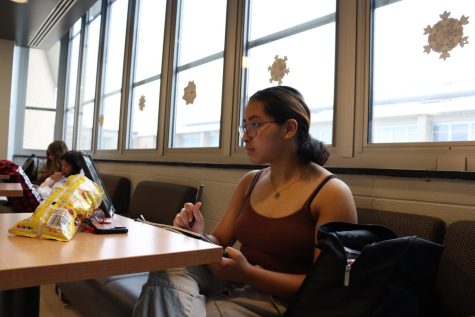 Sophomore Ysabella Dionisio takes notes in a notebook in the back of the commons, by the windows. "I'm currently studying for APUSH. I'm currently taking notes on a chapter. APUSH is pretty decent, it's a pretty decent class. I'm not a history nerd but I have Mr. Weisenberger and he makes the lectures more interesting. Oh, and I'm also practicing my acapella songs!" Dionisio said. Photo by Alexis Mathai, '23.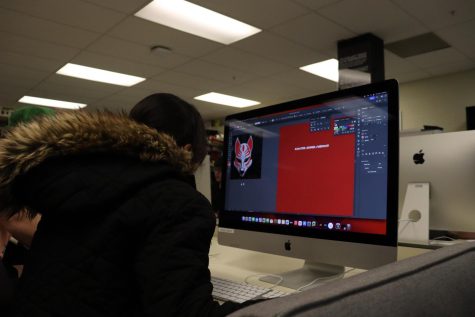 Junior Betzy Rosiles Moreno looks at the color palette on Adobe Illustrator. "I'm making a bit of a logo for a band and they're called the reactive.kitsune.syndicate. I'm using the pen tool to make the more complex shapes. I'm gonna do the red shapes, then the white shapes and then merge them together," Moreno said. Photo by Alexis Mathai, '23.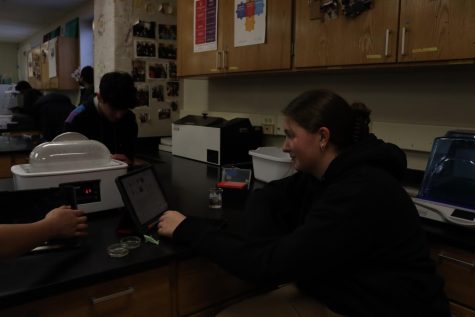 "What are we doing right now… transforming E. coli to see if they become resistant to the antibiotic ampicillin. Right now, we're just waiting for the vials to heat up to put them on the slides and watch them," senior Alexia Lee (not pictured) said. Photo by Alexis Mathai, '23.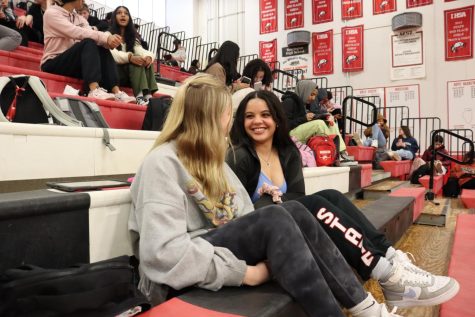 Freshmen Ella Krull and Brylynn Fletcher talk on the gym bleachers during eighth hour P.E. while weight room equipment is moved. "We are helping each other study Spanish. We got a Spanish test. This might be wrong but they're moving all the weight room equipment… [gym is] on hold because equipment is being moved somewhere else… because Barrington was not satisfied with where it was," Fletcher said. Photo by Alexis Mathai, '23.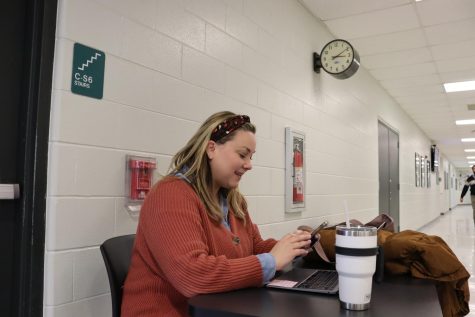 Biology teacher Caroline Milne grades student videos at her hall post in between the former quiet commons and history classrooms. "So, I'm Mrs. Milne and I teach biology. I'm currently grading student videos on planarian regeneration as well as making sure the hallways are safe and students are where they need to be," Milne said. Photo by Alexis Mathai, '23.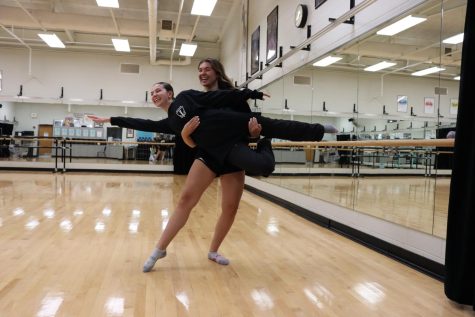 Senior Anna Lemanski carries senior Olivia Giglio in the dance studio during eighth hour. Students are currently doing a ballet project in which they are researching a scene from a ballet and recreating it. "[Lemanski and I] are both doing 'La Esmeralda.' It's about this girl named Esmeralda and she's a gypsy dancer and she has to marry this man or else she'll be sentenced to death if she doesn't. She marries him but she falls in love with this knight but this archduke is actually in love with her and tries to kill her," Giglio said. Photo by Alexis Mathai, '23.
Your donation will support the student journalists at Barrington High School! Your contribution will allow us to produce our publication and cover our annual website hosting costs.